Ashton Kutcher Headed To Outer Space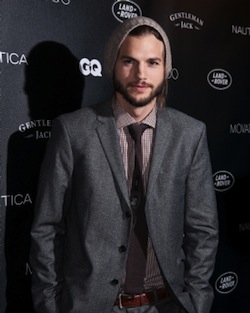 Ashton Kutcher likes to stay ahead of the curve when it comes to technology, and his latest venture is a lot more exciting than being a Twitter pioneer. The actor has signed up to be the 500th person to travel to space with Virgin Galactic.
Virgin CEO Richard Branson announced the news today on his blog, writing, "I gave Ashton a quick call to congratulate and welcome him. He is as thrilled as we are at the prospect of being among the first to cross the final frontier (and back!) with us and to experience the magic of space for himself." Virgin Galactic launched in 2005 and is poised to be the first commercial airline to offer recreational space jaunts.
It cost Kutcher a mere $200,000 to be among what Branson calls, "a fast expanding group of true pioneers who are on their way to a life changing experience and a place in the history books." That's definitely a bit pricey for most people, but since the Two and a Half Men star is reported to earn $800,000 to $900,000 per episode, he can certainly afford to play astronaut.