Ashton Parson: A Southern Boy with a Big Voice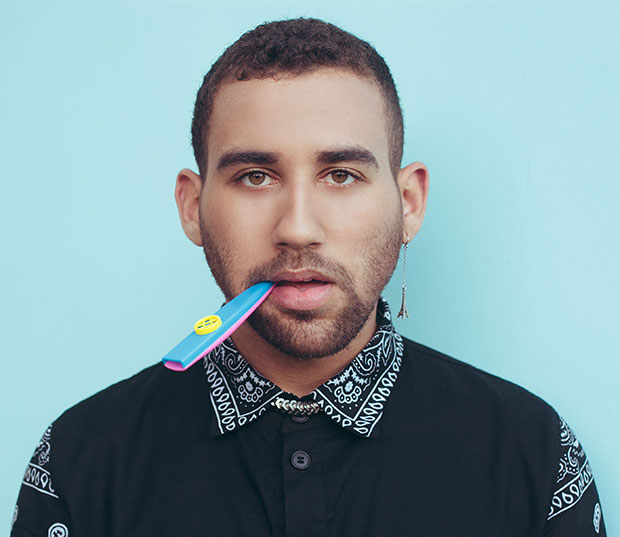 There's a new man on the music scene and his name is Ashton Parson. With a voice that is reminiscent of a cross between Jason Mraz and Maroon 5's Adam Levine and a funky and unique sound to his music, Parson seems like someone who is going to rock the pop scene. Born and raised in the back woods of South Carolina, Parson moved to New York City three years ago to pursue his passion in music and has since found himself working with vocal coach Gordon Grody — who has taught the likes of Lady Gaga and Alicia Keys. Hollywood.com got the chance to chat with Parson and he told us all about his growing career and original music style.
In Parson's music, you can hear a hint of his southern roots — but he is not a country music singer. "On a production end, I just wanted to make sure that my subtle, down home bluesy-soul feel was prevalent in each track," he tells us. "I'm from the South, so I wanted people to be able to hear that in my music, but I also wanted to put an modern spin on things to reflect the grittiness of NYC where I've lived for a bit."
Parson sees his music as mixture of different influences. "It's a heavy-handed pour of swamp soul that's sprinkled with pop," he describes. "I guess you could even call it Retro Soul but with a bigger pop presence." He adds, "It has something for everyone."
As Parson's music begins to catch on, his career is heating up. He has already opened for the glam rock band, Scissor Sisters. "Opening for the Scissor Sisters with Rye Rye was dope," he says. "It was so wild that Rye Rye brought me up on stage. I love her as if she was family, so it was great being up there with her. And the Scissor Sisters are all so great as well. I've been a fan for as long as I can remember."
Now, Parsons is ready to team up with other musicians, maybe on the road. "I would love to play joint shows with other artists in the future," he says. "I think the whole idea of touring together creates a family unit in a way. You can get close and have that connection because you are all doing something you love."
But at its core, music will always be about personal expression for Parsons. "My music is an outward expression of who I am," he says.
[Photo Credit: Jasmine Safaeian]
More:
Andy Cohen and Jill Zarin at War Over "Secret Recording"?
So Ann Coulter Made You Angry: Why Ranting About It Doesn't Help
Colbie Caillat Spreads Christmas Cheer, Talks Rap Ambitions
From Our Partners:

Jessica Biel's Pink Wedding Dress: Celebrity Brides Who Didn't Wear White — GALLERY
(Celebuzz)

'Real Housewives of Atlanta's New Gal Kenya Moore Redefines Model Behavior — EXCLUSIVE VIDEO
(Celebuzz)