Should Ad Agencies Let Audrey Hepburn (and All Dead Icons) Rest in Peace?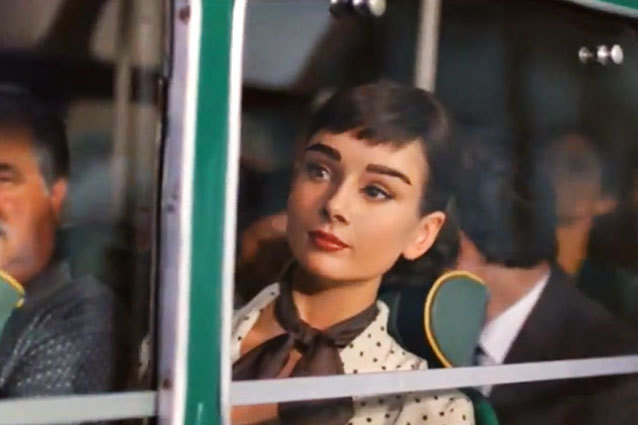 A young Audrey Hepburn — yes, the Audrey Hepburn — stars in a new U.K. ad for Galaxy chocolate. And the spot is admittedly evocative, certainly for Hepburn fans (myself included). It's a beautifully shot, lush ad, set in the European countryside, full of bright colors and swooning romance. It stars a CGI version of Hepburn at the peak of the impish, youthful beauty she was most known for, all blunt bangs, dark eyebrows, and plump red lips.
To see her "acting" in a new clip stokes deep feelings of nostalgia and hope that are then torpedoed by the appearance of the chocolate that reminds us this as an ad. Oh, right, this is a commercial, and Hepburn died in 1993.  We've seen Hepburn's likeness used in advertising before, most notably when Gap used scenes from Funny Face in its 2007 campaign for its Skinny Black Jeans, but never has she appeared so lifelike. It is perhaps because the ad stays so true to her spirit — this feels like it could be a Hepburn movie, and the song she sang in Breakfast at Tiffany's, "Moon River," swells in the background — that it's so jarring.
RELATED: The Future of Television Advertising
It's proof that you can't really win with this increasingly common resurrection technique. (Remember the Tupac hologram?) Remain true to the icon's spirit — this ad had Hepburn's sons' approval — and all you do is remind viewers how much they love this star, thus leaving them feeling a little betrayed. Do something the icon would clearly hate, and you really run afoul of fans. 
There's nothing inherently, morally wrong with such ad techniques — except, of course, that the deceased cannot approve what they're endorsing. But they are inherently creepy, no matter how well-done. Then again, they always get our attention, which is really the point, right? 
RELATED: Commercials Featuring Celebs Before They Were Famous
Watch the ad here:
Hollywood.com correspondent Jennifer Keishin Armstrong is the author of two forthcoming books, Sexy Feminism and Mary and Lou and Rhoda and Ted, a history of The Mary Tyler Moore Show. For more information visit  JenniferKArmstrong.com.
Follow Jennifer on Twitter @jmkarmstrong 
[Photo Credit: Galaxy Chocolate]
---
From Our Partners:

Kate Upton Bares All In Body Paint (Celebuzz)


33 Child Stars: Where Are They Now? (Celebuzz)