Who is Austin Mahone? and Other YouTube Celebs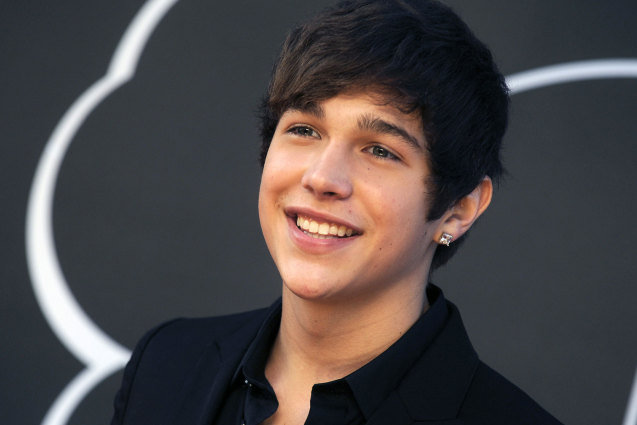 WENN
YouTube has proven to be a viable platform for aspiring amateurs to get noticed, go viral, and hope for instant fame. The latest YouTube prodigy is 17-year old Austin Mahone. In 2010, Mahone began to post videos of himself singing cover versions of pop songs, and it wasn't too long before he started to receive millions of requests for more. After building up an impressive following, Mahone signed a seven-figure deal with Chase/Universal Republic and was most recently seen performing and taking home the Artist To Watch award at the MTV VMAs last month.
With music festivals, charting singles, and dates as the opening act on Taylor Swift's Red tour under his belt, Mahone has become the newest online heartthrob, constantly being compared to the former reigning king of YouTube, Justin Bieber. In 2009, Bieber was so generously bringing shaggy back with his arguably-more-famous-than-him hair, inadvertently awakening a legion of floppy-haired teen idols. Seeing as Mahone has Bieber's shag-meets-bowl haircut down to a science, the comparisons are understandable, with many media outlets dubbing Mahone as "Baby Bieber."
Getting famous through YouTube is proving to be the future of celebrity, with so many people becoming overnight celebs thanks to millions of video views. The social media site is changing the fame game by serving as a manager, agent, and distributor of talent, and even if someone doesn't reach Mahone-style fame, it's become possible to still be able to make a decent living off of uploading YouTube videos.
Whether it resulted in lasting success or was just a flash in the viral pan, here's a rundown of 5 other artists who shot to fame the YouTube way.
Justin Bieber
Love him or hate him, you can't talk about YouTube celebrities without mentioning Justin Bieber. Shortly after his mother posted videos him singing cover songs on YouTube, Bieber literally became an overnight sensation. Discovered by talent manager Scooter Braun, Bieber became the object of a label bidding war between Justin Timberlake and Usher, which was obviously settled with a dance-off. Usher signed the then-15 year old Bieber, who quickly hair-flipped his way to the top of everyone's "Love" and "Hate" lists.
Greyson Chance
If you wanna be down with Greyson Chance, you gotta move fast. In 2010, at only 12 years old, Chance blew the minds of everyone at his middle school talent show when he performed a cover of Lady Gaga's "Paparazzi." The video was uploaded to YouTube and two weeks later, Chance was chilling with Ellen DeGeneres, performing the song in front of millions of people on national television. Gaga herself ended up reaching out to the talented Chance and DeGeneres signed him to her record label, eleveneleven.
Karmin
Made up of Amy Heidemann and Nick Noonan, Karmin worked hard in posting videos on YouTube in the hopes of attracting a substantial number of clicks and likes. In 2011, a video of the pop duo covering Chris Brown's "Look At Me Now" garnered massive attention, including a post on Ryan Seacrest's blog. The band was discussed on reddit (you know you've made it when you're discussed on reddit) and made an appearance on The Ellen DeGeneres Show, signing with Epic Records shortly thereafter.
Rebecca Black
Who could forget Rebecca Black? Even if the answer to that question is "everybody," there's no denying that Black definitely made an impression on pop culture with her 2011 single, "Friday." Black's mother paid ARK Music Factory $4,000 to have Black sing the song and have an accompanying music video. All was uploaded onto YouTube and within a month, the video went viral. With insightful lyrics like "Partying, partying, partying, partying / Fun, fun, fun, fun," the song and Black stayed in the headlines for months to come. Black made the most of her 15 minutes by making a cameo appearance in Katy Perry's video for "Last Friday Night (T.G.I.F.)" and even got a Teen Choice Award out of the debacle.
More:
The 'Ghost Ghirls' Tell All — EXCLUSIVE
5 Debut Albums To Get Excited About
Is Rock Music Dead?
---
From Our Partners:


40 Most Revealing See-Through Red Carpet Looks (Vh1)


15 Stars Share Secrets of their Sex Lives (Celebuzz)