Azealia Banks Drops New Song: 5 Reasons She'll Be Huge in 2013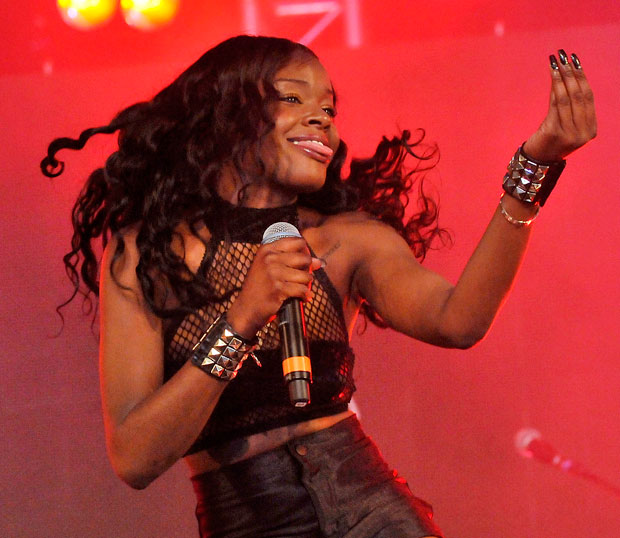 Azealia Banks is so hot right now — and in 2013, things for the young rapper will only continue to set the music world on fire. At only 21 years of age, Banks, who was born and raised in Harlem and attended the LaGuardia High School of Performing Arts, has earned a reputation as being one of the boldest, brightest, and at times most outrageous new artists. Her vibe is cool, her lyrics are raunchy (and occasionally obscene), and everyone is clambering for more Azealia — all before she's released her first studio album.
On New Year's Day, Banks obliged. She tweeted a new song, called "BBD" (stands for the song's "bad bitches do it" refrain). Banks described the song on Twitter as, "It's Trap, but it's Rave. it's Banjee, But still a lil classy" [sic]. It's got the heavy techno beat you'd except from a club staple, but the flow is pure laid-back Banks. It's the kind of song you can't help but to groove to.
Banks clarified on Twitter that "BBD" is not the first official single off her upcoming album Broke WIth Expensive Taste. That honor belongs to a yet-unreleased song called "Miss Amor." Listen to "BBD" now, and read more about why Banks is going to blow up in the coming year.
1. She's finally releasing her first studio album. After pushing it back from September 2012, Banks will finally drop Broke With Expensive Taste on February 12, 2013. The date (2/12) mirrors Banks' debut single, "212" (which is full of some of the foulest language around). Clever girl.
2. Her hipster cred is going mainstream. While Banks has found her name in headlines on niche music sites known for being "in the know," since "212" was released in 2011, her appeal has broadened as of late. Her work is no less X-rated, but suddenly her four-track EP, 1991, is named one of Time's Top 10 Albums of 2012
3. She never suffers from writer's block. Sure, we're waiting for her first real album with bated breath, but Banks has already proven to be a prolific songstress. In addition to the previously mentioned 1991, Banks released an online mixture, Fantasea, on July 9, 2012. Fantasea features a whopping 18 tracks — 15 original songs and three remixes.
4. She has some massive collaborations in the works. You can tell a lot about an artist about the company she keeps — and for Banks this is good news. Banks revealed in an interview with Brazil's Mix TV that she spent some time in the recording studio with Kanye West. In the same interview, Banks confirmed the collaboration with Lady Gaga she hinted of on Twitter. Whether the two songs they worked on together, "Ratchet" and "Red Flame," will appear on Gaga's upcoming album ARTPOP remains to be seen.
5. She's absolutely gorgeous. Okay, okay, so this is shallow. But take all her previous accomplishments and add to them the fact that Banks is a total stunner? Fuhgettaboutit.
Follow Abbey Stone on Twitter @abbeystone
[Photo Credit: George Chin/WENN]
More:
Kanye West's Lyrics Get Baby-Friendly Lullaby Makeovers
Azealia Banks 'Blows Up' a Condom on 'Dazed & Confused' Cover
The Billboard Beats: Bruno Mars and Rihanna Stay Strong, Taylor Swift Back In the Game

'Les Mis': Who's Who of the Cast — PICS