Azealia Banks Ignites Controversy With Perez Hilton, Uses Gay Slur On Twitter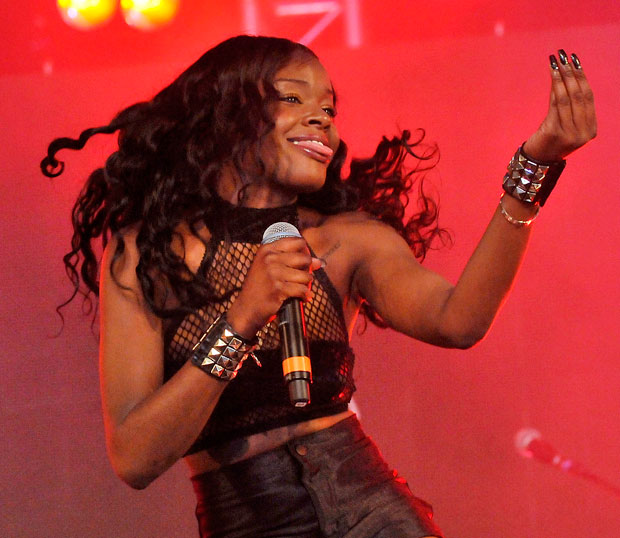 It might be a new year, but as we know all too well, hip-hop feuds are anything but. Chris Brown and Drake. Jay-Z and Nas. Kanye West and well, practically everyone.
So when up-and-coming rapper (and Harlem girl) Azealia Banks went after Michigan-born artist Angel Haze for her song "New York," it shouldn't have come as a shock. Especially considering Banks has never been known as one to play nice. But it turned out to be celebrity blogger Perez Hilton who was in for a shock with this feud. After calling Banks out on Twitter for her "attention-seeking ways" that "are pathetic and hurtful," the openly-gay writer (who ironically enough, became very famous for name calling) quickly learned that just because someone can dish it out, doesn't mean they can take it or won't serve back something far worse. 
And so began the nasty, offensive war of words between Banks and Hilton. Banks used a gay slur in her retort and told Hilton, "u should just kill yourself." She later apologized to upset followers for her "foul language" but added she "wasn't sorry for Perez tho LOL." (Just to be clear, when we said Banks was going to be huge in 2013, we didn't mean like this.) See the entire conversation below. 
You know what you do with trash, right? Put it in the dumpster and throw it away! #BeGoneTrash
— Perez Hilton (@PerezHilton) January 4, 2013
@perezhilton omg u should just kill yourself… Like for real.
— YUNG RAPUNXEL (@AZEALIABANKS) January 5, 2013
@perezhilton lol what a messy faggot you are.
— YUNG RAPUNXEL (@AZEALIABANKS) January 5, 2013
A faggot is not a homosexual male. A faggot is any male who acts like a female. There's a BIG difference.
— YUNG RAPUNXEL (@AZEALIABANKS) January 5, 2013
My most sincere apologies to anyone who was indirectly offended by my foul language. Not sorry for Perez tho. Lol
— YUNG RAPUNXEL (@AZEALIABANKS) January 5, 2013
[Photo Credit: George Chin/WENN]
More:
Kanye West's Lyrics Get Baby-Friendly Lullaby Makeovers
Azealia Banks 'Blows Up' a Condom on 'Dazed & Confused' Cover
The Billboard Beats: Bruno Mars and Rihanna Stay Strong, Taylor Swift Back In the Game

20 Hottest Bikini Bodies of 2012: Katy Perry, Miley and More!