Aziz Ansari Talks 'Weird' Kanye West and Jay-Z Shoot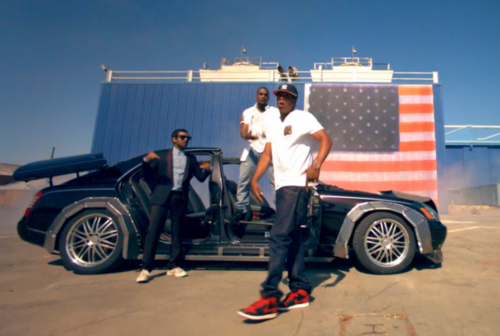 What is it with all these secretive celebrities? First Kim Kardashian refuses to talk about her relationship with Kanye West, and now Aziz Ansari is doing the same. When the Parks and Recreation star turned up in the music video for "Otis," one of the singles off West and Jay-Z's collaborative studio album, Watch the Throne, everyone wanted to know how he ended up being the only other male in the video.
"I hate talking about this stuff," he says after admitting he met Jay-Z through West, a friend of his. "I was hanging out with them both a bunch, and Spike Jonze, who directed the video, is also a friend of mine … and they were like, It would be funny to get Aziz in there to do something random." Something random resulted in Ansari dancing alongside the two rappers.
Ansari says that he even though he agreed to do the video, he was still a bit star struck. "When we're doing the video, I said to Kanye, 'Man, it's really weird that I'm in this video.' And Kanye was like, 'Dude, it's weird for me too. Like I used to be the f–king biggest Jay-Z fan. I went to Jay-Z concerts, and now I just did an album with Jay-Z, and now we're doing a video together — it's crazy for me."
How do you think Ansari did in the song that samples soul-singer Otis Redding?