'Bachelorette' Couple Ashley & J.P. Discuss Wedding Plans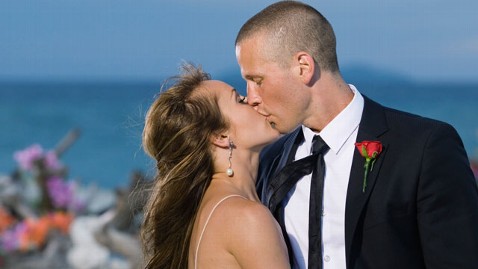 Though Ben Flajnik and Courtney Robertson's relationship is a little rocky these days, Bachelorette couple Ashley Hebert and fiancé J.P. Rosenbaum appear to be stronger than ever. The duo made a special appearance on The Bachelor After the Final Rose special, to sit down with Chris Harrison and discuss their plans for the future. And, according to them, wedding bells are certainly on the horizon.
In fact, they've already started planning and Hebert, who famously rejected Ben's proposal on Season 7 of The Bachelorette, revealed to Harrison that she and Rosenbaum hope to be married "within a year." And being the gracious host Harrison is, he even offered to perform the ceremony, saying, "I'll get ordained."
During the interview, Rosenbaum created quite a stir when he surprisingly announced, "Ashley's pregnant." Of course, he immediately made it clear that he was only kidding.
The couple got serious when Harrison shifted the conversation toward Ben and Courtney's rocky relationship. Having gone through their fair share of media harassment, the pair offered some sage advice: "You have to be there for each other." And despite all the drama circulating the couple, Rosenbaum believes Ben has a "really good head on his shoulders" and will be able to work things out.
But that's a cross neither Hebert nor Rosenbaum need to bear. The two of them seemed just as in love as they were on The Bachelorette finale last summer. Hebert even brought up kids and said they hope to have them "sooner rather than later." So despite the show's unimpressive track record for quality match-making, these two seem to be an exception to the rule. Good for them!
Check out the video below to see their full interview with Chris Harrison.