Home
Celebrities
'Bachelorette' Emily Maynard: Ricki Doesn't Know I'm Engaged to Jef Holm
'Bachelorette' Emily Maynard: Ricki Doesn't Know I'm Engaged to Jef Holm
The whole world — or, at least, those of us who dedicated our Sunday night to television over family time (oops!) — watched as Jef Holm asked Emily Maynard for her hand in marriage on the season finale of The Bachelorette. But while the final episode has aired, allowing the couple to publicly declare their love for one another on morning shows and tabloid covers free of contractual violations, there is still one person who doesn't know about their relationship: Emily's 6-year-old daughter, Ricki Hendrick.
"She doesn't know that we're engaged yet," Emily told reporters Tuesday.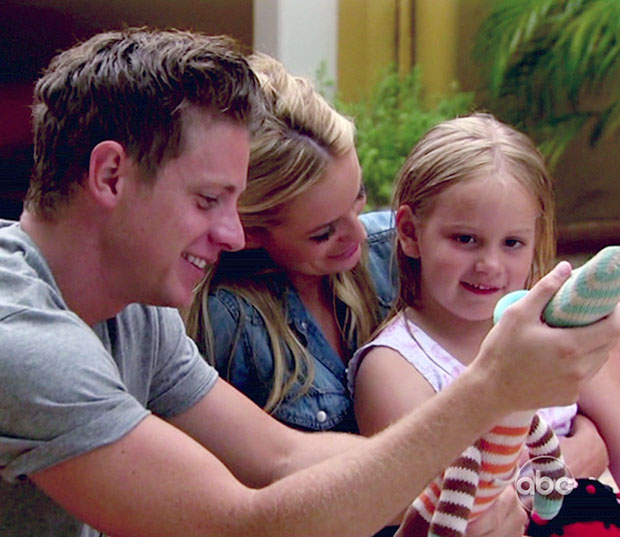 Surprisingly, little Ricki is not alone. Runner-up Arie Luyendyk Jr. (pronounced Lion-Dyke) didn't learn Emily had accepted Jef's proposal until after he had flown across the country — and gifted her with his emotion-filled journal — in an attempt to win Emily back after filming had wrapped. "Arie and I — we've talked a few times since the show ended," Jef said. "We would just call each other randomly, see how the other person was doing. And I thought he knew at first. I thought that he knew that Emily and I were engaged. So when I found out that he showed up in Charlotte [Emily's hometown] and left his journal, it was a shock because I thought he knew we were engaged, and he went behind my back and did that kind of thing. Then I found out it wasn't communicated to him. He didn't know and he dropped off his journal."
And about that journal…
Emily thought it would be disrespectful to Jef if she read the contents of Arie's journal. "I was really surprised that Arie came all the way to Charlotte," she said. "I think it says a lot about who he is and how open he was to this experience. But I have a journal, and I know that I wouldn't want anyone to read it unless they shared the same feelings for me that I have for them. I think that later on down the road, that he will be able to see that, even if he can't right now. [And], out of respect for Jef, I didn't think that was a good idea either, just because I don't think anything good could come of that."
Neither did Jef. He told reporters he too was glad his fiancé didn't read the runner-up's inner thoughts. "I feel the same way," he said. "When I found out that Arie left his journal there — I've always felt secure in what Emily and I have — and so I gave her the option. I said, 'It's okay with me if you want to read it. I'd rather you not, because it's not really going to help us. It's not going to do any good for you to read it and know all those things that are in there.' I guess I wasn't too for it."
So… have they gotten busy?
No doubt the couple is wrapped up in TV appearances following the season finale, but we're not talking about whether or not they've gotten busy. We want to know if they've gotten bus-ay! While Emily and Jef were quite candid about how the felt about Arie's journal, they danced around whether or not they had gotten intimate after the show wrapped. (Fans of The Bachelorette would recall the couple neglected to enter the fantasy suite during filming.) "Well, I mean, we didn't spend the night together on the show, but we have weekends where we get to, you know, spend the whole weekend together," Emily replied to Hollywood.com coyly. "And, yeah, we're engaged."
Can we expect a Spin-off?
While Emily said she did find true love on the show, she has no plan to keep their relationship in front of the cameras. "I have no interest in every doing any spin-off show or anything like that," she said. "I have been looking forward to the day that I get to go back to normal and not worry about cameras or anything like that. Jef and I can just be two people who fell in love on a show."
Life as they know it.
Now that the couple has been allowed to go public with their relationship, Emily wants to focus on getting Jef and Ricki better acquainted with each other. "It hasn't been that long ago since we left Curacao [where the finale was filmed], so I've been easing her into everything very slowly," Emily told Hollywood.com. "Right now, just for secret's sake, she knew that Jef was our friend and lots of fun, because I didn't want her running around telling everybody. Now that the secret is out, we can get back to our normal schedule. I am excited about spending more time [as] the three of us."
And Jef is even planning to move to Charlotte. "I have begun looking at houses and apartments in Charlotte," he said. "I'm really excited for the move. I think it's going to take place the first, second, third, maybe fourth week of August. Ricki starts school the 22nd, so I want to be there to support her and get involved in her life as quickly as I can."
[Photo Credit: ABC]
More:
Emily Maynard's Engagement Ring: All the Details
Jef Holm's Utah Mansion for Sale for $3.39 Million
'Bachelorette' Finale Recap: Emily Maybard + Jef Holm = ?