'Bachelorette' Newlyweds Ashley Hebert and J.P. Rosenbaum Reveal Baby Plans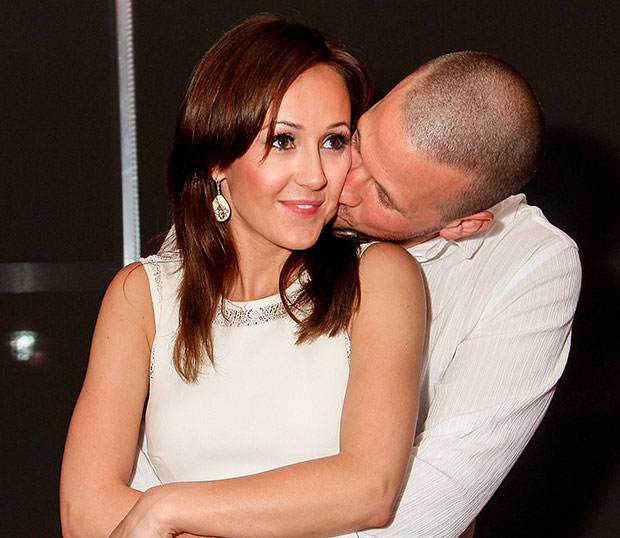 First comes love, then comes marriage, then comes Ashley with the baby carriage. Well, not so fast. Bachelorette star Ashley Hebert and J.P. Rosenbaum may have tied the knot on Dec. 1 — making them only the third Bachelor(ette) couple to ever do so after 24 seasons of the franchise — but that doesn't necessarily mean they are ready to start a family.
"We never really planned for that," Ashley says. "We just got married, so we're going to chill out for a little while and enjoy each others' company. We don't really have a plan yet. They're definitely in the somewhat near future, but there's no specific timeline."
And how many kids do they want? "We do go back and forth on how many," J.P. says. "She wants one. I want two."
Unfortunately, while we got to watch Ashley and J.P.'s romance unfold on screen — and we can look forward to seeing their wedding on Sunday during a two-hour special on ABC — we won't get to follow the story of the growth of their family on television. "The wedding, that's a big thing — you're opening up your life to people," Ashley tells Hollywood.com. "I might be a little bit more protective when it comes to kids. [And] definitely not the birth. I'll only have J.P. in the room for that."
J.P. agrees with Ashley's logic. "I'd like to keep the rest of our lives together a little bit more personal," he says. "We are perfectly happy going the rest of our lives without reality TV." But, as J.P. puts it, the couple will "never say never." Who knows, maybe a huge opportunity (and huge paycheck) will convince them to change their minds.
Next Up: All the Details of Ashley and J.P.'s Wedding J.P. and Ashley's Big Day
Before we get to the baby-making stage of this relationship, there's still the matter of the wedding for fans to obsess over. While we have to wait until Sunday to watch the nuptials air, Ashley and J.P. share some of the juicy details from their big day.
Here's the wedding rundown:
Location: They tied the knot in Pasadena, Calif. "Pasadena was really the most beautiful place of everywhere we were considering," J.P. says. "At the end of the day, it was just really far and away the nicest place that we had seen, so we decided that this would be the place." While some of their guests weren't able to attend, J.P. doesn't think the distance was the reason. "It was more so a factor of prior obligations on their part," he says.
Wedding Dress: Ashley used Pinterest to get inspiration for her dress. "I just looked at wedding dresses and stole little pieces of all these different dresses that I loved," she says. Then designer Randi Rahm used these ideas to create Ashley's dream gown. "She custom-made this beautiful [gown]," Ashley says. "It was the perfect dress for me. [It was] everything I ever wanted."
Guest List: The couple had a few Bachelor alums in attendance. Former Bachelorette star DeAnna Pappas and her husband Stephen Stagliano both went, and Ashley Spivey, Ashley's Bachelor costar from Brad Womack's season, was one of her bridesmaids.
Bumps Along the Road: "Everything more or less went very smoothly [except that it rained on the wedding day]," J.P. says. "There was no fighting. The biggest stress we really had was maybe shortening the guest list." Their wedding planner, Mindy Weiss, who also planned Bachelorette Trista Sutter's wedding, helped take care of the nitty-gritty. "We really just put everything in her hands," Ashley says. "We were just like, 'Do what you do best, and we'll be happy with anything.' And it turned [out] above and beyond anything we could've done on our own."
Vows: "We each wrote our own vows [and] kept them very personal," Ashley says. "For me, I took the core things that I think are important to [make] a marriage last. I made all those promises."
The Ceremony: Bachelor host Chris Harrison officiated the ceremony, but the wedding did include some J.P.'s Jewish traditions. "We got married under a chuppah," J.P. says. "We broke the glass. We signed the Ketubah. I was wearing a yarmulke. [And] we did dance the Hora [during] the reception afterwards." 
First Dance: Ashley and J.P. took their first spin around the dance floor to a live performance by musician Matt White, who sang his song "Love." "We heard the song and fell in love with it," Ashley says.
Bouquet Throw: Ashley decided to forgo some of the traditional bridal traditions in order to make her own creative memories. "I didn't even throw my bouquet," she says. "We just had so much going on that we forgot about all the traditions. We paved our own path."
Wedding Games: "Chris Harrison and one of the producers tied their ties together and created a limbo for everybody," Ashley says. "That was a really fun part of the night." Again, this part won't be included in the televised clips.
Honeymoon: The couple hasn't taken their honeymoon yet, but are planning to do so in 2013. While they have yet to select a location, they both agree that they want to go somewhere "tropical."
Next Up:Thoughts on the Next Bachelor and Happily Ever After  The Bachelor Saga Continues
While Ashley and J.P. have yet to meet Sean Lowe, based on watching Emily Maynard's season, they feel he will make a great Bachelor. "He seems like a normal, good guy," Ashley says. "He has a good head on his shoulders. He'll make the best decisions. He'll be honest with himself. [And] he won't get caught [up] with anything."
Ashley adds, "We're going to have an honest season ahead of us."
With the wedding behind them and the future ahead of them, Ashley and J.P. look forward to their life together. "There's this sense of security, this sense of forever, that didn't exist before we got married," Ashley says. "There's something about being married that makes you feel different in that regard."
Be sure to catch The Bachelorette: Ashley and J.P.'s Wedding when it airs on ABC Sunday at 9 PM.
Follow Lindsey on Twitter @LDiMat.
[Photo Credit: Victor Chavez/Getty Images]
More:
'Bachelorette' Couple Ashley Hebert and J.P. Rosenbaum: Married!
Move Over, Trista and Ryan: 'Bachelorette' Ashley Hebert Headed For a TV Wedding
'Bachelorette' Couple Ashley & J.P. Discuss Wedding Plans

Fall Bikini Bodies: The Good, the Bad and the OMG

Kim Kardashians Best Bikini Moments (PHOTOS)