To Boldly Go: The Baffling World Of William Shatner's Pop Career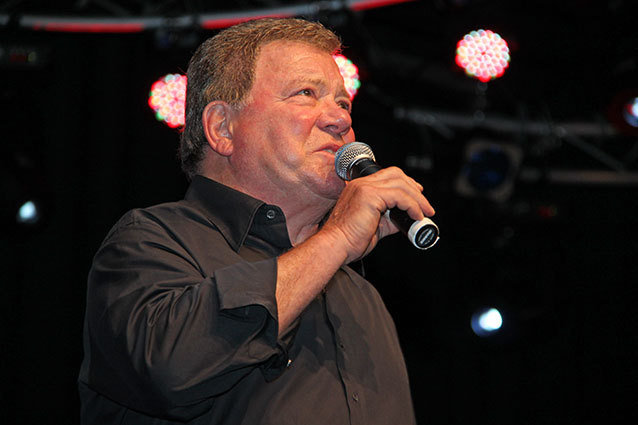 WENN
Despite playing Captain James Kirk for 28 years, William Shatner has become almost as famous for his baffling pop career as he has for his iconic Star Trek role. In the week that he releases his fifth studio effort, Ponder The Mystery, here's a look at five of his strangest musical excursions.
"Lucy In The Sky With Diamonds"
First showcasing his often-parodied spoken word style, Shatner startled '60s Trekkies when he tackled The Beatles' druggy classic for his debut album The Transformed Man. A regular inclusion on the 'worst songs of all time' lists, Shatner has claimed that his unique interpretation has been entirely misunderstood and that he was in fact performing the track from the perspective of an LSD user.
"Rocket Man"
Undeterred by the overwhelmingly negative response to his previous foray into pop, Shatner continued to persevere with his overly-dramatic and accidentally camp approach by donning a suit and tie and embracing the world of holograms for this absurd rendition of Elton John's signature hit at the 1978 Science Fiction Awards.
"Common People"
36 years after his debut, Shatner ventured back into the studio for a second time with the Ben Folds-produced Has Been, the standout of which was this typically surreal collaboration with Joe Jackson on a cover of Pulp's Britpop classic which even more bizarrely, went onto spawn a ballet production.
"F*** You"
Perhaps inspired by his foul-mouthed character, Shatner decided that the ideal way to promote his short-lived sitcom $h*! My Dad Says was to perform the expletive-led version of Cee Lo Green's inescapable chart-topper during an appearance on George Lopez's late-night talk show. The Gnarls Barkley singer later thanked Shatner for helping to make the song more acceptable to mainstream audiences.
"Bohemian Rhapsody"
Somehow Shatner managed to make Queen's bonkers rock opera even more insane when he recorded it for 2011's Seeking Major Tom, while its accompanying floating head promo is the stuff of nightmares.
Follow @Hollywood_com


More:
Actresses Who Took Their Tops Off For Absolutely No Reason
New Shows Can't Escape Post-Modern Family Black Hole
Tom Hanks Discusses His Diabetes
---
From Our Partners:


40 Most Revealing See-Through Red Carpet Looks (Vh1)


15 Stars Share Secrets of their Sex Lives (Celebuzz)