Barbara Walters Hospitalized Following Fall — REPORT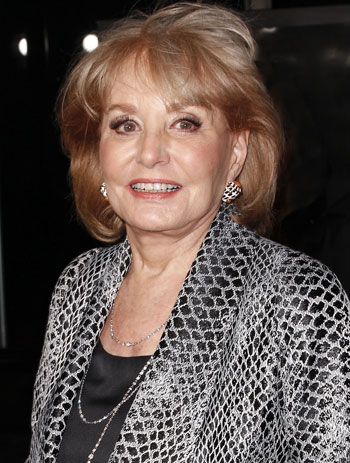 For Barbara Walters, the Inauguration weekend started off with a bang — only not one anyone would have wanted. The 83-year-old journalist and venerable beacon of television news was hospitalized on Saturday night after falling at the residence of the British Ambassador, resulting in a cut on her forehead.
According to an official statement from ABC News, the hospital visit was that of a precaution rather than necessity. "Out of an abundance of caution, she went to the hospital to have her cut tended, to have a full examination and remains there for observation," explained SVP of ABC News, Jeffrey W. Schneider. As for the state of Barbara's ultra-sharp mind? There are no worries there. "Barbara is alert (and telling everyone what to do), which we all take as a very positive sign."
RELATED: Why Barbara Walters Thinks These People are More Fascinating Than You
The fall, while not serious enough to require an overnight stay, may keep Walters from contributing to coverage of Barack Obama's second term Inauguration events occurring on Monday, January 21, 2013 — the whole reason Walters was in Washington, DC, according to TV Newser. It may even be several days before Walters can return to her regular on-air duties. Hollywood.com has reached out for comment on the matter, but did not hear back by the time of publication.
[Photo Credit: B. Ach/INFevents]
Follow Alicia on Twitter @alicialutes