Home
Celebrities
Who Could Be Barbara Walters' Most Fascinating Person of 2013?
Who Could Be Barbara Walters' Most Fascinating Person of 2013?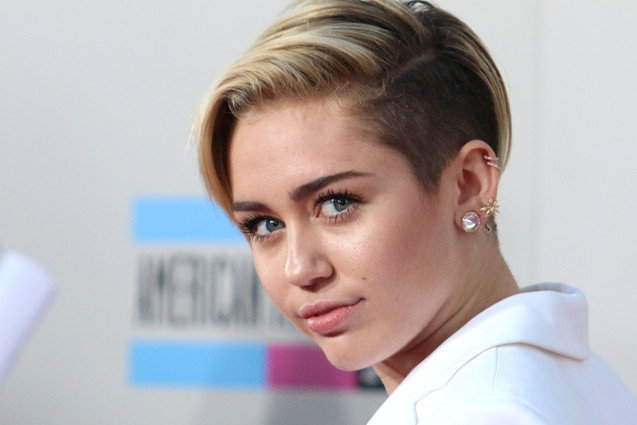 Splash News
What do Miley Cyrus and Pope Francis have in common? Unfortunately, it's not a love of twerking or a palace in Rome, but the fact that they have both been declared to be part of Barbara Walters' list of the Most Fascinating People in 2013. They're joined on the list – Walters' last before her retirement next year – by Prince George, Edward Snowden, ABC Anchor Robin Roberts, Diana Nyad, the cast of Duck Dynasty, Jennifer Lawrence, and of course, Kimye (a.k.a. Kim Kardashian and Kanye West). Sure, we could wonder how Walters plans to interview an infant, or whether West will let anyone get a word in edgewise during his segment, or if the Duck Dynasty men will reveal the secrets behind their signature beards, but the more important question is just who Walters thinks was more fascinating than any of the much-talked about people on this list. 
We won't find out the answer to that question until Walters reveals her top choice during her television special on Dec. 18, but in the meantime, let's speculate about who could have beaten out a pope, a prince, and a pop star.
The Disgraced Athlete
Lance Armstrong has already appeared on the list twice before and was Walters' number one pick in 1999; however, while his previous appearances celebrated his Tour De France wins and his triumph over cancer, he made headlines in 2013 after he admitted to using steroids throughout his career, and therefore being stripped of his seven Tour de France titles. Walters has included people who were currently in the midst of or recently endured major scandals, like with the inclusion of Tiger woods in 2010, after his multiple affairs became public, and last year's top pick, General David Petraeus, who stepped down as Director of the CIA after an affair was revealed as part of an FBI investigation. If Armstrong is looking to win back the affection of the general public, an interview with Walters could help him out, but since his admission to using steroids came out at the very beginning of the year, there's a chance that the nation has moved on and is uninterested in hearing more from him. 
The Politician
Walters' pick for the year's most fascinating person usually holds some sort of political influence, from 1994's top pick Nelson Mandela to two-time winner Hillary Rodham Clinton to the consecutive wins of Barack and Michelle Obama. This year, Walters would have a number of major political figures to choose from, making this the most difficult character to predict. She could go with Clinton again, who stepped down as Secretary of State and is surrounded by rumors of another presidential run, her daughter, Chelsea, who has done a great deal to boost the profile of the Clinton's family foundation, Wendy Davis, the Texas senator whose 11-hour filibuster in June got national attention, or Senator Ted Cruz, who many held responsible for bringing about the government shutdown in September. 
The Scandal of the Year
If Walters hadn't already included Snowden on the list, therefore making him ineligible for the top spot, this is where we would say that he would be a shoo-in for the title. Therefore, it's possible that the Most Famous Person of 2013 could be Manti Te'o, the former Notre Dame football star who, in the weirdest scandal of the year, found out that he had been the victim of a hoax, and that the beloved girlfriend he believed died of cancer before the biggest game of the season had never existed in the first place. It's easy to see why Te'o dominated the news for a good part of the year, as this scandal had it all: deceit, intrigue, dead grandmothers, fake Twitter accounts, and college football. In fact, the more information that was revealed about the elaborate Catfishing scheme, the more questions were raised. With that in mind, we propose that if Walters didn't choose Te'o as the most fascinating, she choose instead the guy behind the hoax, Ronaiah Tuiasosopo, so that we can all find out how everything played out. 
The Pop Culture Phenomenon
Occasionally, Walters breaks away from the most scandalous or most prestigious person of the year, and focuses on someone who has dominated the conversation through pop culture. If Walters wants to go that route this year, there are only two real possibilities for who she would choose. The first is J.K. Rowling, who previously won the top spot in 2007 after publishing the final Harry Potter book. In 2013, she made headlines again when it was revealed that she was the author behind The Cuckoo's Calling, a critically-acclaimed but publicly unnoticed detective novel. After it was revealed that Rowling wrote the novel under the pen name Robert Galbriath, it went flying off the shelves. Shortly afterward, Rowling revealed that she would be returning to the world of Harry Potter by writing the screenplay for a spin off film starring the magizoologist Newt Scamander, to be titled Fantastic Beasts and Where to Find Them. The second pop culture phenomenon that dominated 2013 was, of course, Breaking Bad, which came to a record-breaking conclusion at the end of September. There was no show on television this year that was bigger, better, or more talked-about than Breaking Bad was, and so if Walters decides to declare a pop culture giant as the Most Fascinating thing in 2013, then there is no better choice than Vince Gilligan, Brian Cranston, and Aaron Paul. 
The Curveball
In 2013, there was one person who was talked about more than any other human being on the planet. An ideal combination of mysterious, beautiful and wealthy, she captured the world's attention and has dominated the headlines since she first appeared in June. We are, of course, talking about North West, daughter of Kim and Kanye, who at four months old is more famous and more talked about than both of her parents. For her last ever special, we'd like to see Walters make the unusual choice of awarding the title to baby North, who, in return, would help make the last Most Fascinating People special the biggest and highest rated one of all time. And if North doesn't want to be interviewed on her own – she is notoriously private, after all – we're sure everyone would love to watch a joint conversation between her and the other famous baby on the list, Prince George.