Two Guys Dressed as Batman and Captain America Saved a Cat from a Burning Building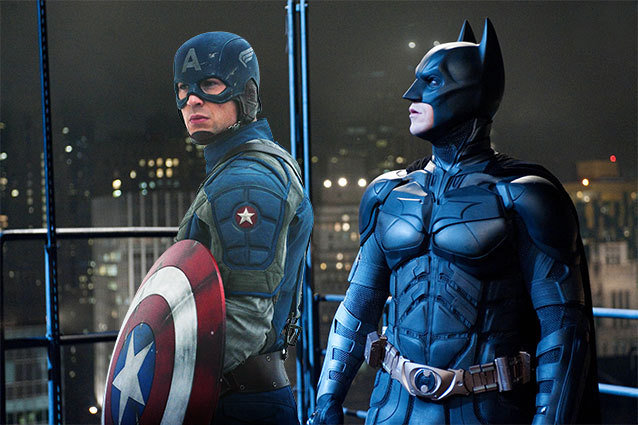 Warner Bros; Marvel
It's quite likely that nobody has ever said this before, but I kind of wish I lived in West Virginia. In the state's quiet town of Milton, a Cabell County neighborhood not far from the Ohio border, the dreams of every comic book-loving kid came to life: a real life Batman and Captain America crossover. Dressed as the classic characters for a "Heroes 4 Higher" convention at the American Legion Post, former firefighter and Iraq War vet John Buckland and associate Troy Marcum were in the process of imparting words of wisdom to attending children when they spotted smoke billowing from a nearby residence. As reported by local news station WCHS, Buckland and Marcum — I mean, Bruce Wayne and Steve Rogers — broke into the burning building, a private home, and sought anyone who might be in danger. The sole occupant: a cat, whose owners are reported by the news station to have been out of town.
Despite the longstanding enmity between Wayne and Selina Kyle, Buckland channeled his humanity to not only bring the unconscious cat to safety but to resuscitate it. When the cat came to, it met the caped hero with an ungrateful hiss (in its defense, waking up to face a costumed superhero in the middle of present day West Virginia would incur shock from anyone).
Hero Buckland recounted the story for WCHS, "I grabbed [Marcum's] shoulders, gave it everything we got and the door opened. He breaks out the window, the smokes lets out and as I can start to see I reach down and grab something furry!" After the whole ordeal was over with, Buckland joked, "I just wonder what the cat was thinking."
Give that a shot, Affleck.
More:
Batman Gets 'Breaking Bad' and 'The Notebook' Mashups
The Marvel Universe Is One Big Swinger Party
James Spader Cast in 'Avengers 2'
Follow @Michael Arbeiter
| Follow @Hollywood_com
---
From Our Partners:


40 Most Revealing See-Through Red Carpet Looks (Vh1)


15 Stars Share Secrets of their Sex Lives (Celebuzz)