BBC Battles Jerry Sandusky-Like Child Sex Abuse Cover-Up Charges: UPDATE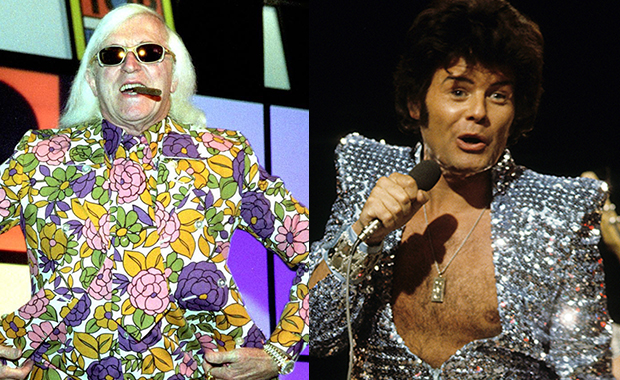 BBC host Jimmy Savile (left) and pop star Gary Glitter 
UPDATE: The BBC's top executive, George Entwistle, resigned late Saturday in the wake of the company's alleged mishandling of two sex-abuse scandals that have rocked the country. 
ORIGINAL STORY: 
As infamous Penn State predator Jerry Sandusky begins his 30- to 60-year sentence in a Camp Hill, Penn. prison, a similar scandal is making entertainment headlines across the pond. 
It's a terrifying story, decades in the making, involving a popular TV host, a 1970s pop star and the world's largest broadcaster — the BBC. 
On Sunday, former glam rock star Gary Glitter was arrested by London police investigating a wide-scale child sex abuse scandal. 
Glitter, whose real name is Paul Gadd, hit it big with his 1972 stadium anthem "Rock & Roll (Part 2)," which you can still hear today at most sporting events thanks to its catchy "Hey!" chorus. But in 2006, the musician spent several years in a Vietnamese prison after he was convicted of sexually abusing two preteen girls there. 
British detectives now suspect his involvement in another sex abuse scandal surrounding his friend, once-beloved BBC TV host Jimmy Savile, who's been described as one of the worst sex offenders in recent history. (Although Glitter denies the allegations.)
For two decades, Savile hosted the popular show Top of the Pops and also — frighteningly — had his own kids' show called Jim'll Fix It. 
Later in his life, the star, who died last year at 84, was accused of so many counts of child sex abuse that investigators now believe he victimized about 300 children and adolescents, often allegedly using his fame and the TV set premises to lure them. 
WHAT DID HIS BBC BOSSES KNOW?
Now, in a year that's already swirled with one massive British media scandal (Rupert Murdoch's News Corp. hacking debacle), international media is shifting a critical eye to the BBC, one of the world's most respected news organizations, and what key executives really knew. 
One reason people are starting to care this side of the Atlantic? In August, the New York Times named former BBC director general Mark Thompson its new Chief Executive with his first day slated as Nov. 12. And journalists are starting to seriously question his involvement in the Savile scandal. 
So much so that even the NYT itself published an Op-Ed piece questioning his appointment. "Given the seriousness of sexual abuse allegations — look at what it did to Penn State — you would think that Thompson and his underlings would immediately want to get to the bottom of it," the writer charged.
For now, as police wrap up their investigation, the worlds of media and entertainment are left to wonder if the scandal could take down the news giant. 
"The BBC's reputation is on the line," Chris Patten, the chairman of the BBC Trust, wrote in The Mail on Sunday newspaper. "[It] risks squandering public trust because one of its stars over three decades was apparently a sexual criminal … and because others — BBC employees and hangers-on — may also have been involved." 
[Photo credit: Wenn]
Follow Michelle on Twitter @HWMichelleLee
More:
Jerry Sandusky Found Guilty: A Look Back at His Pop Culture Skewering
Kutcher learned 'great lesson' from Paterno tweet uproar
Perry salutes Penn State child sex abuse victim
From Our Partners:

Exclusive New 'Twilight: Breaking Dawn' Trailer!
(Moviefone)

Oops! Biggest Comedy Movie Mistakes
(Moviefone)