'Berenstain Bears' Co-Creator Dies at 88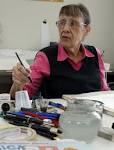 Jan Berenstain, co-creator (along with her late husband, Stan) of the Berenstain Bears series of children's books, passed away on Friday, one day after suffering a severe stroke. She was 88.
The Berenstains' first such book, The Big Honey Hunt, was published in 1962. Over 300 more Berenstain titles have been published since then — all inspired by the same thing: the real-life Berenstain family.
The aforementioned Stan Berenstain died in 2005 at the age of 82, at which point their son Mike began collaborating with Jan.
Mike Berenstain issued the following statement to The Associated Press regarding his mother's death: "Every day she was very productive. She was working on two books and had been doing illustrations until the day before she passed away."
Source: EW