Home
Celebrities
Fooled Again! Some of the Internet's Best Pranks and Jokes on April...
Fooled Again! Some of the Internet's Best Pranks and Jokes on April 1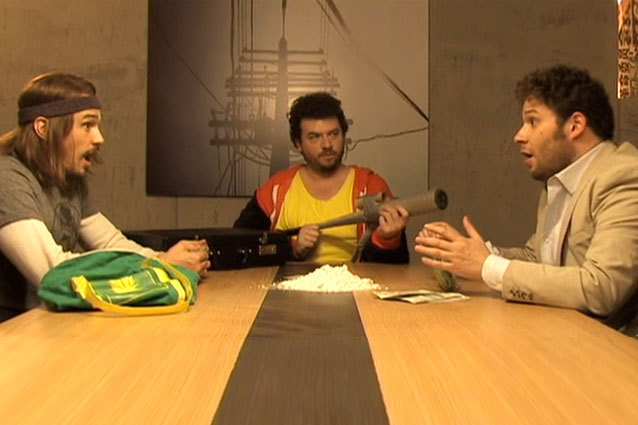 Between trying to avoid Game of Thrones season premiere spoilers and making sure no one sent you that devastating Kevin Ware video again (seriously, stop doing that) this Monday morning already would have been a minefield of things are were desperately trying to avoid. But this is no ordinary unavoidable case of the Mondays Monday, no this is prankster's Christmas: it's April Fools' Day. 
RELATED: Adam Levine is Getting His PhD in Art History From Columbia University 
Since the Internet is already filled with jokesters, hooligans, and people who skim over major details in articles (and therefore take them at face value), April 1, 2013 was bound to be one for the ages for the gullible and the gullibullies. So far, the Internet has not disappointed. For every teeth-grinding casting fake-out, there's a truly clever gag like Funny or Die's Kickstarter rally cries for 90s shows like Family Matters and Sliders. (Is it bad that we desperately want this to be real? Move over, Veronica Mars!) 
Elsewhere, Netflix has been coming up with some inspired and legitimately helpful genre recommendations like "Movie Starring Estelle Getty and Some Other Guy," "Movies Featuring an Epic Nicolas Cage Meltdown," and "Movies That Are English, But Still Require Subtitles," and Hulu debuted the world premieres for shows like Rural Juror and Inspector Spacetime. Oh, and the Kid President addressed the nation at one point. 
RELATED: Will Smith Confesses: 'I Kicked a Kid in the Face and Broke His Nose' 
Still, Twitter has been the ultimate vessel for making April Fools' gags go viral in mere moments. Whether it's TV stars messing with each other like Dulé Hill announcing that he's replacing Lamorne Morris as the next next Coach on New Girl (the guy from Psych totally psyched us out… get it?!) or comedians reacting to legitimate news that sounds like a joke (see: Rob Delaney's takedown of Chris Brown), there's a reason why #AprilFools has been trending like crazy all day. 
RELATED: Will Ferrell Wants the 'Horrible Bosses' Cast for 'Anchorman 2' 
Now, we knew that when Seth Rogen teased via Twitter that Pineapple Express fans would "be getting a treat today" it was going to be an April fool, but that doesn't mean we didn't get any less of a kick out of the fake red band Pineapple Express 2 trailer. The original gang, including Rogen, James Franco, and Danny McBride, were back for some more 4/20 shenanigans on this 4/1, and we're kind of hoping Funny or Die campaigns for a Kickstarter for this sequel to actually happen. Watch the NSFW preview here: 
Alright, we admit we've been taking part in the April Fool's Day festivities, too. 
[Photo credit: Yahoo!]
---
From Our Partners:


40 Most Revealing See-Through Red Carpet Looks (Vh1)


33 Child Stars: Where Are They Now? (Celebuzz)