These Celebrities Have Some Pretty Awesome Websites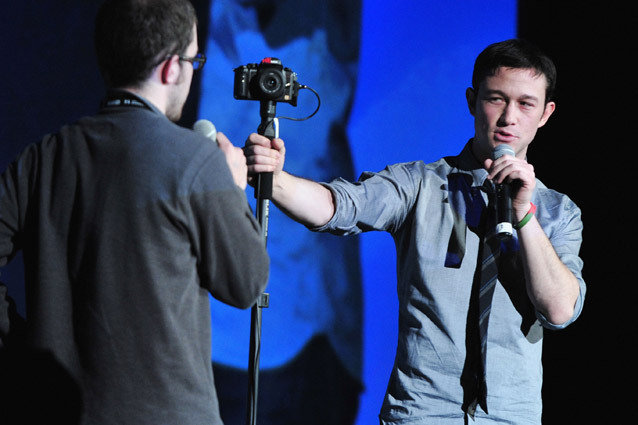 George Pimentel/Getty Images
Did you know that some of your favorite celebrities have interests that are somewhat and/or completely unrelated to their careers? Shocking, we know. But they do! Producer Swizz Beatz likes to paint, Matt Damon is involved in clean water projects, and Joseph Gordon-Levitt has one of the coolest websites/online open collaborative production companies ever. 
Joseph Gordon-Levitt, HitRecord
First of all, everything JGL does is pretty awesome. So when he got the brilliant idea to start a production company that literally anyone in the world can join, we should have known it would take off. HitRecord is a website where artists, writers, musicians, and anyone who has any kind of talent that they've parlayed into a project can submit their work. If the big man (who goes by 'Regular Joe' on the site) likes what he sees, you can get hired as a freelance worker and paid for your work. And if you just like to be around art and other artists, this website is one hell of a place to hang out.
Zooey Deschanel, Hello Giggles
Zooey Deschanel and her two best friends (Molly McAleer and Sophia Rossi) have a blog and it is as adorable and fun as you think it is. With a focus on women, they post about everything from DIY nail art to creative writing tips, to social issues. A lot of it is cutesy, but much of it deals with heavier issues, including the Malala Yousafzai story.
When we visit Jay Z's Life + Times website it kinda feels like we're hanging out with Hova himself. The site (which features lots of great work from writer, hip-hop critic, activist, and Jay Z's good friend dream hampton) specializes in sharing sports news, art news, fashion news, and of course music-related stuff. It's all very NYC…in fact, there's even a recent article on the Chelsea Market Cookbook. 
Charlize Theron, Africa Outreach Project

Lots of celebrities do lots of great charity work, but Charlize Theron is legitimately and completely involved in this project. The Oscar-winning actress is very hands-on in the fight against the spread of HIV/AIDS in Sub-Saharan Africa and in her native South Africa. We love that Charlize actively tweets updates about her project, and continuously promotes the work she and the folks in her organization are doing. 
More:
Cameos We Can't Wait To See In JGL's 'Don Jon'
The Best Fashion Blogs
Best Celebrity Instagram Accounts
---
From Our Partners:


40 Most Revealing See-Through Red Carpet Looks (Vh1)


15 Stars Share Secrets of their Sex Lives (Celebuzz)