Miley Cyrus And Other Music Videos That "Wrecked" Us With Literal Symbolism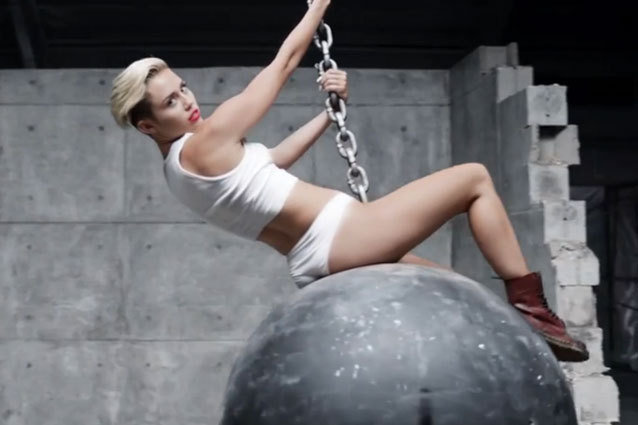 Some music videos use abstract imagery to illustrate the feeling behind a song, while others literally hit us over the head with their literal interpretation of the lyrics à la Miley Cyrus's "Wrecking Ball". Unlike the "literal music video" meme, which dubs new lyrics over the original video that more closely matches what's happening in the video, these videos require no editing to get their direct translation across. So for all of you who prefer their music videos "straight up," here is a list of artists who don't like to read between the lines.
A Little Respect – Erasure
No (dis)respect to Erasure, but we can't believe someone signed off on this. Not only do they act out the lyrics, but they superimpose it over the duo singing. How do we know he discovered "something to make me sweeter," by putting sugar in tea of course! Then they break they heart by holding up a heart and breaking it with a hammer. We've seen school plays with more understated symbolism.
Dancing in the Streets — David Bowie and Mick Jagger
It didn't take much to make a music video in 1985, just some colorful windbreakers, snapping fingers and entire premise of just dancing around…in the streets. When two of the biggest pop icons of all time covered this Martha and the Vandellas Motown classic, one would think their budget might cover more than a trenchcoat and some anonymous warehouse in Newark. But as the song suggests, these two spend the entirety of the video "dancing in the streets," in one of the worst examples of white people dancing ever committed to film.
Dancing on the Ceiling — Lionel Richie
Not to be outdone by his fellow pop rivals Bowie and Jagger, Lionel Richie took the concept of a literal dancing music video one year later, added a rotating room and around $400,000 and what you see is what you get. How would one show the elation of dancing on the ceiling without actually doing so? This innovative video apparently also warranted a behind the scenes special on HBO. But without these groundbreaking visuals, we would never have Jamiroquai's "Virtual Insanity" and we don't want to live in that world.
With Arms Wide Open — Creed
We get chills when we hear this song, and by chills we mean cold sweats. Creed was one of those pants that got filed under "grunge" at Sam Goody but we all knew it was Christian Rock. In order to really make the audience feel what the song was about, there was no shortage of times that lead singer Scott Stapp threw us arms open in the air. Would the video have the same emotional punch had he sat on a rock with his arms folded? We all know the answer to that one.
Sledgehammer — Peter Gabriel
Before Miley started licking her tool set, Peter Gabriel took the sledgehammer to new artistic heights and made it more than an erotic prop from Tool Time. Sure, he follows he same pattern of literal interpretation of the lyrics, but he does so using claymation, pixilation, stop motion animation and creative metaphors. While the lyrical imagery is direct, the meanings behind it are not and it remains one of our favorite music videos of all time.
More:
Kitten "Wrecking Ball" Parody
Jimmy Kimmel Crashes "Blurred Lines" Video
David Bowie New Valentine Video
---
From Our Partners:


40 Most Revealing See-Through Red Carpet Looks (Vh1)


15 Stars Share Secrets of their Sex Lives (Celebuzz)