H&M Shamelessly Exploits Beyonce's New Song To Sell Bathing Suits — VIDEO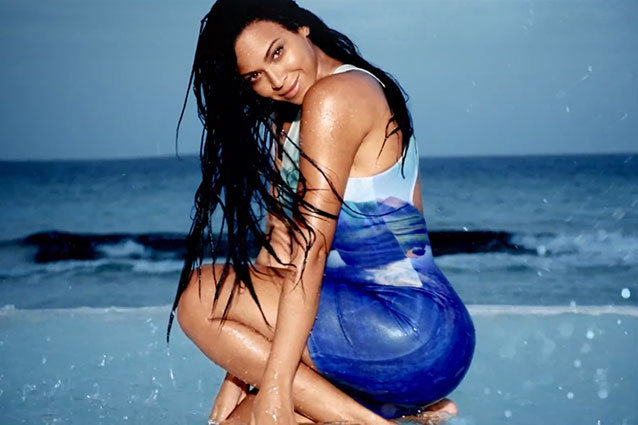 You can't blame H&M for wanting to cash in on Beyoncé's incredibly powerful popularity, or should we say "reign over all living things and most cellestial beings." Bey has the entire world wrapped around her perfect little finger, so when H&M was looking to boost their national cred, who better than Miss Bow Down, Bitches herself? No one. 
The problem is, the clothing chain has decided to continue its pattern of using artists' music to sell its wares. They did it with Lana Del Rey, who debuted a cover of "Blue Velvet" with a very Del Rey video that looked like it came straight from the '60s, for their Fall collection. Now, they're blowing that out of the water with Beyoncé's new spot, which is basically a music video for her new song "Standing on the Sun." Until, that is, the giant corporate logo is slapped on the end. It feels like a giant slap in the face. "You want a new Beyoncé song? Great. Just make sure you buy one of our swimsuits too, sucker."
When Del Rey did it, the relationship with the company seemed to be somewhat symbiotic. Her flubbed performance on SNL and a few wacky interviews had taken her from rising star to an indie singer in need of a relaunch. The H&M campaign let her come back into our consciousness with a layer of elegance and beauty. She needed that commercial as much as H&M needed her name. 
With Beyoncé, the commercial feels like a company taking advantage of our hunger for anything and everything King B. Her new album may be heard by the few lucky souls around the world who secured tickets to her fantastical Mrs. Carter Show tour, but the rest of us schmucks have to look to the Internet for each ounce of new Bey material. It feels like a cheap trick: we buy into this magnificent music video, with B throwing sand and dancing around on tropical beaches, only to find that we don't actually get the whole song and that this is simply a clip hoping to make us buy something. 
Look, we know that for H&M this is a huge coup. But what we're wondering is why Beyoncé would do this to us. Why would she debut pieces of her highly-anticipated new album in an ad? It was slightly annoying when she did it with "Grown Woman" in her latest Pepsi TV spot, but doing it a second time is obnoxious and degrading to her music. It's not like she needs the cash — after all, she did just sell tickets to stadium concerts all over the world and she's married to Jay-Z. She doesn't need the exposure; she's practically over-exposed as it is. What motivation does she have, then, to turn her music into a high class commercial jingle? 
Not to mention, if she's going to take all this time to film mini music videos for soda brands and clothing companies, can those of us who got shut out of Ticketmaster a grand total of three times get something in the form of a real Beyoncé video? One that blows our minds like "(Girls) Run The World" or "Single Ladies" or "Upgrade U" or anything else she's ever done?
We love Beyoncé, but there's just something so cheap and tawdry about obtaining our fix through all of her corporate sponsorships. We want the real B. Even if it's the carefully curated, self-made-documentary version of Ms. Knowles, it's better than this.
Follow Kelsea on Twitter @KelseaStahler
More:
Bey and Jay's Cuba Trip Was Not Against the Rules
Beyoncé Steals the Scene in New 'Gatsby' Trailer
Beyoncé's Pepsi Ad: Did Britney Do It Better? 
---
From Our Partners:


Eva Longoria Bikinis on Spring Break (Celebuzz)


33 Child Stars: Where Are They Now? (Celebuzz)