Is Beyonce's Hype Train Slowing Down?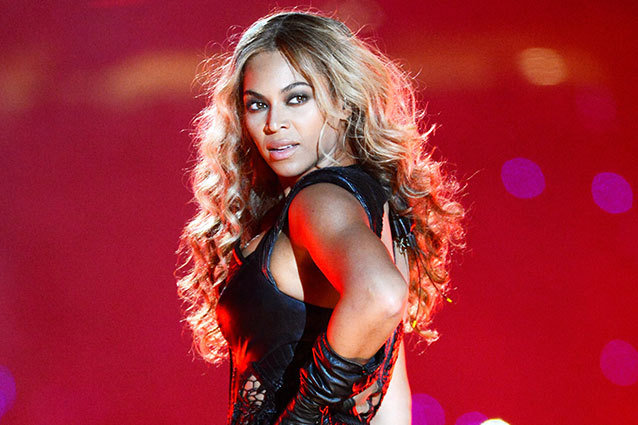 Most people's reaction to being shut out while trying to obtain tickets for Beyoncé's Mrs. Carter World Tour vacillate between rage, despair, and helpless weeping. The woman who almost literally runs the world (as she so aggressively prophesied in her last first single off of 4) is so beloved, she can't even hold enough concerts to please all of her fans, also known as the majority of people with a pulse. The downfall of all this love is that this level of hype, however deserved, can't sustain itself. And the widely mixed reviews for Beyoncé's latest musical offering may be the biggest crack in her pristine onslaught of publicity up to this point. 
RELATED: What's Wrong With Beyoncé's New Promo?
"Bow Down/ I Been On" (listen here) was released the weekend of March 16 to mild, and in many cases disgruntled, chatter. While evidence (including a supposed track list from Mrs. Carter, according to Ne-Yo) suggests this duo of songs parading as one is not the first single off of Beyoncé's highly anticipated new album, but simply a musical journey with the help of producer Hit-Boy, who famously worked on Jay-Z and Kanye's "Ni***s in Paris" and A$AP Rocky's "1 Train."
The problem is that the aggressive Beyoncé of these tracks is not the woman we followed blindly into the Super Bowl halftime show. She's not the same woman who made us skip three (yes, three) work meetings to play Ticketmaster roulette for the sliver of a chance to see her perform live (even if it's from the nosebleeds). She's not the same woman we defended for lip-syncing the National Anthem at President Obama's second inauguration. She's not the person we've come to expect after riding the hype rollercoaster for the past three months since she reemerged from her cocoon of motherhood. The songs aren't horrible per se, especially considering the conflicted reception that her somewhat aggressive hit "(Girls) Run the World" first received when it first dropped, but rather, harder than what we've come to expect. It's a jarring effect set up by the three-month praise-fest that started at the end of 2012. 
RELATED: What Beyoncé's HBO Doc Was Missing
In fact, Beyoncé's over-exposure may have made any successful musical debut impossible. (Perhaps that's why these songs, which collectively feature 40 seconds of Beyoncé's actual singing despite a three-minute and 34-second runtime, were released before the album and in the publicity deadzone of St. Patrick's Day weekend.) While our love for Queen B has swelled, it has also been tested. The inauguration lip-sync incident was a hiccup that  blew over because of the magnanimity of her persona. The God-awful Destiny's Child song "Nuclear" was chalked up to the excuse that the group was simply rusty and little blame fell on Bey. At the Super Bowl, the lower audio on Michelle Williams and Kelly Rowland's mics was schluffed off as a joke instead of a symptom of conflicting egos. The lack of tickets to her shows was blamed on the music industry parasite: scalpers. Even her surface-scraping, self-serving, self-directed documentary Life is But a Dream didn't so much anger fans or critics, but provoke us all to ask for one thing: more. 
By the time we got to the thing for which she's actually famous (you know, singing songs), did she even have any hope of emotionally, spiritually, and wholly satisfying our needs? If Beyoncé's newest song doesn't pick us up, envelop us like a baby, tickle our tummies, then gently place us back down on a dance floor constructed purely for our use, if it doesn't excite us to borderline dangerous levels, stripping away all certainty of where we begin and Beyoncé ends, how can we possibly be satisfied? We can't. 
RELATED: Beyoncé Vs. Justin Timberlake: Who's Got Better Game?
We (and I wholeheartedly implicate myself, the woman who at one point called the singer her religion, in this) have elevated Beyoncé to such unbelievable heights that she appears to us not as a super star, but as a cellestial being. Her presence on television, in photos, in music (and the one time I almost passed out upon just seeing her in person) has become so other worldly that as incredible as she is in a more grounded sense of the word, her talent can't even attempt to match our expectations. 
Her hype train is losing some steam, thanks in part to the momentary distraction that was the pre-release of Justin Timberlake's 20/20 Experience, but "Bow Down" may actually be a wise form of damage control. The track has confused us and, for many fans, disappointed us, but it's brought her inflated image back down to a more manageable level. Perhaps, when the first true single off Mrs. Carter finally descends from the throne, our expectations will be level enough to appreciate it as the new work of an innovative, talented artist, and not the prophecies of the human embodiement of perfection. 
Follow Kelsea on Twitter @KelseaStahler
[Photo Credit: Kevin Mazur/WireImage]
---
You Might Also Like:


15 Oscar-Winning Nude Scenes


Young Jack Black Is Totally Unrecognizable