Beyoncé Joins Jay-Z on Stage During New York Concert — VIDEOS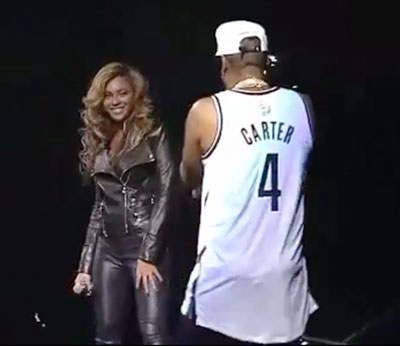 Music royalty took the stage on Saturday. Not only did fans get to experience hip hop king Jay-Z performing at the Barclays Center in Brooklyn, N.Y., but the king was also joined by his queen, Beyoncé, for a few special serenades. First, Beyoncé did a rendition of her 2008 single, "Diva," then they performed their song "Crazy in Love" together. 
But the fun didn't end there. Beyoncé also helped Jay-Z finish up by taking the stage again for a duet of "Forever Young." And it's a good thing she was there to help him out because he missed his cue to actually take the stage, so she started his section for him, the Huffington Post reports. "I should probably rap here," Jay-Z said as he finally got on the stage. He then thanked her by giving her a love pat on her famous rear as she exited the stage. 
If you weren't able to make the concert, catch the videos of Jay-Z and Beyoncé performing together below.
"Diva" and "Crazy in Love" Performances
"Forever Young" Performance
Follow Lindsey on Twitter @LDiMat.
[Photo Credit: YouTube]
More:
Kanye West and Jay-Z Duet 'No Church in the Wild' VIDEO
The 2012 BET Awards: Kanye, Interrupted
From Our Partners:

Kate Upton Poses Topless for Cosmopolitan's November Issue — PHOTOS
(Celebuzz)