Beyoncé Joins Twitter — Your Move, Tina Fey & Jon Stewart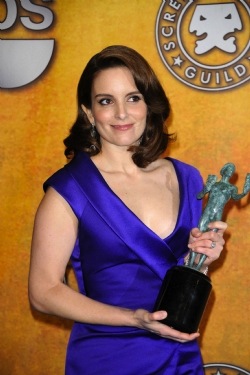 As of April 5, Beyonce has finally joined the 21st century, creating a Tumblr loaded with personal photos and starting a Twitter account. Several other big names, including Samuel L. Jackson, Oprah Winfrey, and Steve Carell have signed on to the social networking site in the last year, but some of our favorite stars are still holding out. We're officially putting all of the following celebrities on notice: It's time to embrace the Tweet!
You may think you're following Fey, but the 30 Rock creator isn't behind the accounts @tinafey, @TinaFey123, or @NotTinaFey (at least it's accurate). Fey is one of the few celebrities we love so much that we actually want to know what she ate for breakfast, but she has no intention of joining the site. As she explained to Craig Ferguson, "I guess I just feel like if I had any jokes, I would hold them."
While you might have seen headlines proclaiming "Jon Huntsman Punked by Jon Stewart on Twitter," that isn't exactly right. Stewart did disrupt the former presidential candidate's "Twitter Town Hall meeting" by directing people to ask questions about Jon Hamm, however that was sent via @TheDailyShow. Though his Tweets would definitely be hysterical, we aren't holding our breath on this. In a Daily Show segment titled, "Old Man Stewart Shakes His Fist At Twitter," Stewart explained, "I have no idea how it works, or why it is."
We kind of get this one. Clooney is as classy as it comes, and it would be weird to see someone like Frank Sinatra tweeting. However, times have changed and we're confident that Clooney could find a way to fit his witty quips into 140 characters.
Yes, it's hard to believe, but Megan Fox and Michael Bay carried out their entire Transformers fight without taking the feud to Twitter. As a hot celebrity with seemingly no filter, it's almost like Twitter was designed for Fox.
Hey girl, we know what would brighten your day: sensitive messages of encouragement from the sexiest man alive. (No, Bradley Cooper, nobody said your name.)
Twitter may be a bit too mainstream for Jolie, but think of the gossip potential! One retweeted Jennifer Aniston-related message or a photo of Shiloh's first piercing could fuel media for weeks. Plus, Jolie's leg already has a Twitter account, and it's only fitting that the rest of her should follow.
More:
Beyoncé Reveals Her Most Personal Pics Yet
Beyonce Flaunts Her Hot Post Baby Bod