A Three-Part Guide to Beyonce's 'BEYONCE'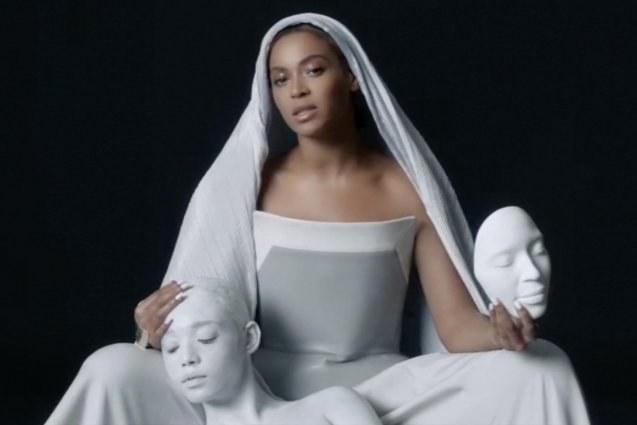 Beyonce/Columbia
With its 14 tracks and 17 new videos, Beyoncé's new album (titled, appropriately, BEYONCE) dropped suddenly Thursday night. So, heading into this weekend, whether you'll be spending time at the club, shopping for last-minute gifts at the mall, or just taking a quick drive, you'll be sure to be greeted with something, anything, everything BEYONCE. And it's our job to make sure you're adequately prepared for the enormous undertaking that is this brand new album. 
The Basics:
TO LISTEN:
"Drunk in Love"
"Superpower"
"Heaven"
TO WATCH:
"Blow"
"Partition"
"***Flawless"
Superlatives:
Most Definitely Going To Be Everywhere: "XO," which sounds like a feel-good Katy Perry pop anthem, only, you know, good.  
Most Similar to "Diva," the most undervalued Beyoncé track: "***Flawless," which might be the only pop song to feature the literal definition of feminism and twerking done in the name of female overconfidence.
Most Likely to Be in Every Romantic Comedy Trailer: "Jealous," with its running through the streets, "If I Was A Boy"-style climax.
Dance Move Most Likely to Be Responsible for Injuries: The local Brazilian two-step in "Blue."
Most Similar to a Conan O'Brien Late Night Sketch: "Grown Woman," which features overdubbed footage of a young Beyoncé that's reminiscent of these old sketches. 
Any Questions?
What does "A Visual Album" mean? It means Bey made 17 music videos and is not about to put them all on Vevo. 
Why so much? Why all at once?? Beyoncé does not get leaked. Beyoncé does not get upstaged. She knows what the people want. And all of you have been lauding the power of the binge watch. In short, Beyoncé ain't no HBO. She's Netflix.
What do I NEED to listen to? Superpower.
What do I NEED to watch? "Blow." "Blow." A million times, "Blow"!
Is there anything about this album that is not amazing? Drake, doing his best knock off of a church-going (or temple-going, as it were) Kanye West via 808s and Heartbreaks. 
How should I feel about "Yoncé?" Like Beyoncé does not want to be referred to as "Bey" anymore. (In which case, my bad.) 
How can I help the BEYONCE cause? By donating plain brick walls for underprivleged dancers to twerk it out against. And by not supporting the human hellhole that is beauty pageants. Unless, of course, you believe your child has the possibility to become a $350 million pop sensation. In which case, tape it!
Is there anything I can do in the presence of such greatness? Bow down, bitches.