Beyoncé Wants You to 'Bow Down' in New Song — LISTEN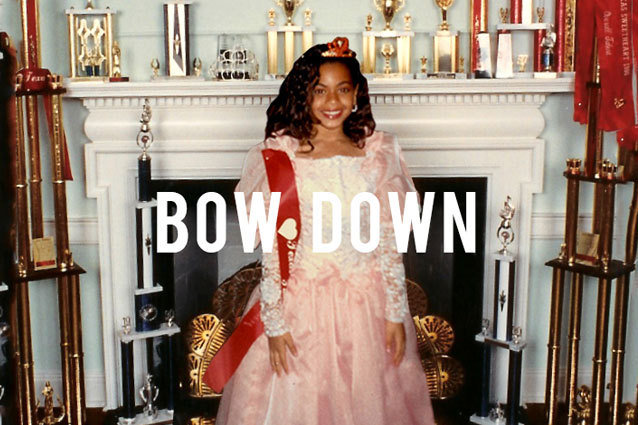 I suppose when the entire world refers to you as a Queen, it's only a matter of time before you start demanding s**t. Enter: Beyoncé and her new single, "Bow Down/I Been On." Fans of cocky, aggressive pop stars, rejoice: your new anthem is here. The song seems to be completely in line with Queen Bey's upcoming "The Mrs. Carter Show World Tour," though she's quick to let you know that she's more than just Jay-Z's wife, where she claims "I'm more than just his little wife." Hierarchy is tricky!
RELATED: Is Beyoncé Too Obsessed With Being Mrs. Carter?
The tune sounds like a scene-setting track that would be right at home as the introduction to the arena tour's stage show. Just imagine it, the lights all down while the music comes up, fans screaming and a Beyoncé entering center stage in all sorts of royal regalia. It is dramatic, unconventional, and goes hard, with  "I'm bigger than life … / I'm the number one chick, I don't need no hype." Very modest we are, aren't we, Beyoncé?
The track has curious divergence in its second half, with a slowed-down distorted rap by — you guessed it — Beyoncé. If you're into that sort of thing, I guess it's cool? We're personally really not feeling it. Sorry Bey, not all that you touch turns to gold. Check out the tune below, and if you're one of Queen Bey's b**ches, get on your knees. That's an order, unless you're a trick that wants to be slapped. Beyoncé's one is a reign of violence!
RELATED: Beyoncé Announces 'Mrs. Carter Show World Tour'
What do you think of the new Beyoncé song? Let us know in the comments.
Follow Alicia on Twitter @alicialutes
[Photo Credit: Iam.Beyonce.com]
---
From Our Partners:

Kate Upton Bares All In Body Paint (Celebuzz)


33 Child Stars: Where Are They Now? (Celebuzz)