Beyonce to Be Godmother to Kim & Kanye's Baby? 8 Other Famous Godparents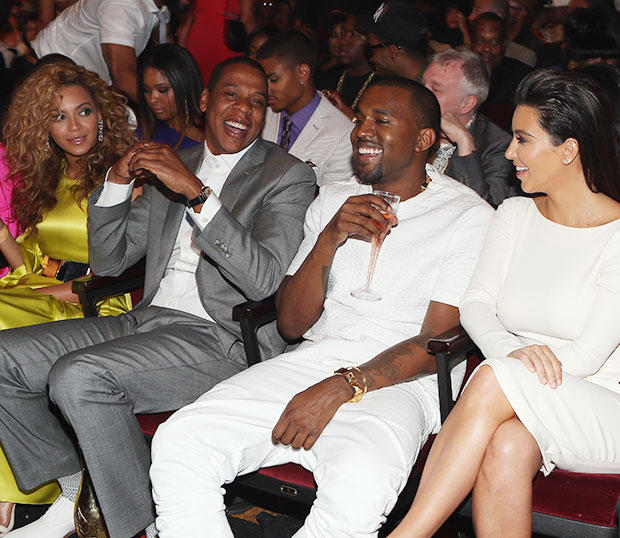 As Robert Duvall once taught us, the role of godfather is "a very close, a very sacred religious relationship." This does not not only hold true for the Italian-American mafiosi to which Duvall was referring at the time, but for each and all who embrace the tradition. There is no greater honor — no Pulitzer Prize, med school diploma, or rare World's Greatest Mime accolade from Sheboygan, Wisc.'s impossibly selective street theater community (it's all politics now, anyway) — than being named godparent to the child of a close friend or relative. Adding to the list of things that make even their own reflections jealous, The Huffington Post reports that Beyoncé Knowles and Jay-Z have been handed the godparent titles for the unborn baby of friends Kanye West and Kim Kardashian. While the hearts of fans might be warmed by this news, those wary of what peril might unfurl when a dynasty becomes too powerful are probably reopening their unused apocalypse survival shelters right about now.
But we can worry about the human race's doom at the hands of this ever-growing nucleus of might later. Our main focus now is how cool it is that Beyoncé and Jay-Z are going to be kodparents (that's actually the legal term when it comes to a Kardashian baby) to this highly anticipated human. They'll have a lot to work with when it comes time to set their new titles into action: they've got creativity, entrepreneurial genius, the pipes for party-stopping birthday serenades, a steady supply of Nets tickets. But do the Carters top the list of the greatest godparents Hollywood has seen to date? They do have some formidable competition…
Johnny Depp
Godfather to: Billy-Ray Burton, son of Tim Burton and Helena Bonham Carter
How Does He Fare? Knowing that your godfather is the guy who married a zombie, tortured children in his chocolate factory, killed Anthony Michael Hall with his bladed phalanges, and destroyed a Lewis Carroll classic (all with the help of your father, no less) is sure to give a kid some nightmares.
Lady Gaga
Godmother to: Zachary Jackson Levon Furnish-John, son of Elton John and David Furnish 
How Does She Fare? Homemade meat dresses and egg shelters are not necessarily the sort of birthday gifts a kid might want to receive year after year, but the whole "be yourself" attitude is a self-esteem bonus.
Bono
Godfather to: Knox and Vivienne Jolie-Pitt, twins of Angelina Jolie and Brad Pitt
How Does He Fare? Hopefully, he's not the one teaching the kids math. Fourteen does not come right after three, in any language!
Hugh Jackman
Godfather to: Chloe and Grace Helen Murdoch, daughters of Rupert and Wendi Deng Murdoch
How Does He Fare? Oh, you mean the guy who's handsome, charming, and perfect in every way? Yeah, he'll do.
Nicole Kidman
Godmother to: Also Chloe and Grace Helen Murdoch (still daughters of Rupert and Wendi Deng Murdoch)
How Does She Fare? She's no Jackman, but then again, who is? Kidman's a winner nonetheless.
Jennifer Aniston
Godmother to: Coco Arquette, daughter of Courteney Cox and David Arquette
How Does She Fare? Who cares? We're all too happy that Monica and Rachel are still best friends to worry about Aniston's real-life abilities.
Steven Spielberg
Godfather to: Drew Barrymore, self of Drew Barrymore
How Does He Fare? Spielberg's first interaction with his goddaughter launched her into a world of alien life forms, gun-wielding government agents, and near-death experiences… but the magic!
James Brown
Godfather to: Soul
How Does He Fare? I think we can all give him due credit for this one.
[Photo Credit: Christopher Polk/Getty Images]