Beyonce vs. Justin Timberlake: Who's Got Better Music Industry Game?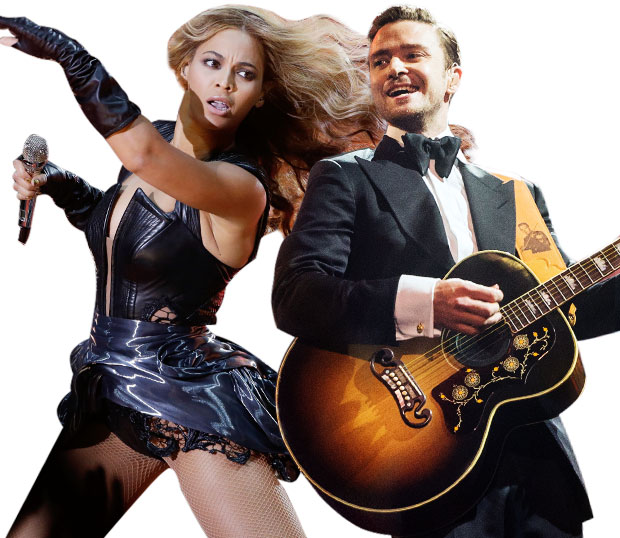 Let's get ready to rumble… it's the non-feudiest celebrity feud ever. Beyoncé and Justin Timberlake are not in a battle, but they are not at odds, working constantly at Brandi Glanville levels of competition to best one another at the fame game. But damn, are they doing a lot of the same things at the exact same time! Take, for example, Timberlake's tease for a new documentary about the making of his album on Ryan Seacrest's radio show. Sounds a wee bit familiar, no? (Queen B's self-directed doc hits HBO Feb. 16.)
While they may not be willing to fight it out, we can't help but wonder, who's playing the fame game better right now?
Round 1: Revival, Ahoy!
Who cares about the Oscars anymore, really? The same day that the Academy announced its 2013 honorees, JT and Bey took to social media to announce some seriously huge news of their own.
Justin's shot: The 1-2 Punch
The night before his big announcement, Timberlake took to Twitter to tease some big news, simply saying, "Thursday, January 10th, 2013 at 9:01 am PST…" The talented teaser followed that up with a link to his website and the phrase "I'M READY." The result was a video teasing his long (long, long, long) awaited return to the studio. And, with that, the sound of a million women passing out could be heard across the globe.
Beyonce's Shot: The Upper Cut
Oh really? There are two other huge announcements today? And both were teased ahead of time? Well, Bey isn't worried. She knows that when she posts notice of her new album and a photo of the Destiny's Child reunion and a link to pre-order their new music the world would lose its mind. And boy, were the minds lost because we had no idea it was even coming.
Ding, Ding, Ding: Beyoncé wins for her use of the element of surprise. JT's pre-pre-announcement on Twitter the night before posting a vague video is bested by Beyoncé's simple Facebook post without warning. The shock was much greater, and so was the impact.
RELATED: Justin Timberlake Enlists David Fincher for 'Suit & Tie' Video — 7 Videos by A-List Directors
Round 2: Delivering the Goods
Announcements are great, but the only reason they get us all riled up is that they lead to a product. In this case, the product is music that we hope can live up to the original greatness of both JT's and DC's catalogs.
Justin's Offering: A Little Pop of the Collar
"Suit & Tie" disappointed many fans by failing to live up to the incredibly gold standards of "SexyBack" and "What Goes Around (Comes Back Around)." Still, the song has swag (and if that's not enough, it's got Jay-Z, too).
Beyonce's Offering: "Emotions" Round 2
While fans were going on and on about how disappointing JT's first return effort was, the disappointment can't hold a candle to the epic boredom inspired by Destiny's Child's new song, "Nuclear." The song was so boring, the trio didn't even debut it at the Super Bowl as they'd planned (likely for fear that people might be snoozing before B got to her big finish).
Ding, Ding, Ding: Justin wins this round. "Suit & Tie" is like "Damn Girl" off FutureSex/LoveSounds: it's catchy, and we're dancing, but we know JT can do better. "Nuclear" is like "Emotions," minus the part where the song has actually feelings. And face it, ladies: no one lists their favorite DC song as "Emotions."
Round 3: The Super Bowl
The biggest night in sports was hijacked by the music industry as both Beyoncé (with Destiny's Child) and Justin gave long-awaited performances for their fans. Sorry, Ravens.
Justin: Just Accept That You've Already Lost This One
Timberlake made a valiant effort to be as relevant as Beyoncé during the hubbub of the Super Bowl, giving his first performance the night before at a DirecTV party and playing not one, but two new tracks. And they were fantastic. They really were. If we were awarding points for effort here, JT would take the cake. But unfortunately, effort doesn't mean victory.
Beyonce: Killed It
Has anyone you know been talking about anything other than Beyoncé's halftime show for the past two days? If your answer is "Yes," aren't you looking for a way to direct their attention away from John Kerry, the Baltimore Ravens, and their friends and family so you can talk about how you had a dream that you pulled a Freaky Friday with Bey for 24 hours and how it was the best dream you've ever had in your life? Our girl and her explosive halftime show are still trending on Google and the performance ended over 40 hours ago. Those are light years in Internet time, and we're still furiously searching for videos and GIFs.
Ding, Ding, Ding: You're kidding, right? Queen B, all the way.
Beyonce at the Super Bowl: 47 Reasons The Halftime Show Was Better Than The Game
Round 4: A Life on Film
Both of our beloved performers are now releasing their own true-life films about their lives. And yes, we are hungry for every last second of these documentaries. No, we don't have a problem. This is perfectly healthy.
Justin's Reveal: How to Make Another Album
JT is giving us an inside look at the album that took years of fans' begging to make happen. We asked for it, and it looks like we're about to get more than we ever bargained for. (We're still guaranteed to love it. How could we not?)
Beyoncé's Reveal: Her Life Story
Beyoncé has been extremely, extremely closed about her personal life. Perhaps that's why every little glimpse we get of her, her beau, and their precious little bundle of joy sends us into fits of joy. It's rare. As well as we know (and love) B's every little trick on stage (hair flip, FTW!), we know very little of her personal life. She told a room of reporters that the reveal of her documentary, which she edited herself, leaves her "scared."
Ding, Ding, Ding: Beyoncé, again. A pop idol giving us a behind-the-scenes look at his new album versus one of the most powerful and beloved women in the world revealing herself so candidly that it scares her? There's no contest.
RELATED: Is Beyonce Too Obsessed with Being Mrs. Carter? Where's Our Independent Woman?
Round 5: Jet-setting
What follows the announcement of a new album? A tour. That's right: a long, glorious parade of costumes and epic solos as fans cry tears of immeasurable joy.
Justin's Itinerary: One Show. One.
Justin has yet to announce a tour. Instead, his fans were forced to clamor for the instantly sold-out, one night only show at Hollywood's Palladium on Feb. 10. That's it. No. Fair.
Beyoncé's Itinerary: Globe-trotter
Mrs. Carter (her actual married name and the name of her tour) will fly around the world, delivering her fierceness to fans everywhere and ending the journey with a homecoming show at her hubby's hub: the Barclays Center in Brooklyn. The announcement came with plenty of pomp: a video featuring Beyoncé looking like royalty, covered in jewels and fine clothing. All we can say is, "When can we buy our ticket?"
Ding, Ding, Ding: It's B. Call us when you've got a tour set up, Justin.
Follow Kelsea on Twitter @KelseaStahler
[Photo Credit: hoto Illustration by Hollywood.com; Photo Credits: AP Photo/Mark Humphrey; Christopher Polk/Getty Images for DirecTV]

Oops, Britney Spears Goes Braless Again — PHOTOS (Celebuzz)

30 Hottest Lingerie Scenes From the Past 30 Years — PHOTOS (Celebuzz)