'Big Brother' Stars Brendon Villegas & Rachel Reilly Wed: Details!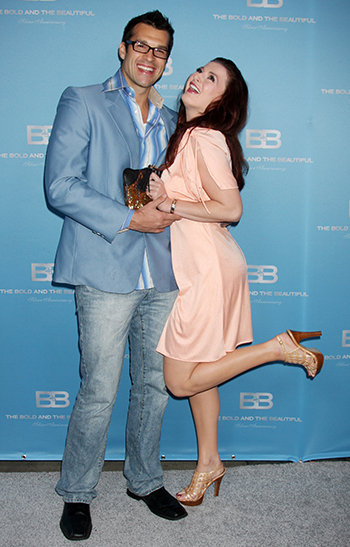 When Brendon Villegas and Rachel Reilly teamed up on Big Brother, the couple together became known as "Brenchel". But after the two reality stars — who also paired up on The Amazing Race — were married in a lavish Los Angeles wedding on Saturday, "OTT (over-the-top)" might be more appropriate.
According to People, the bride — dressed in a floor-length, silver-sequined Missoni gown — arrived via helicopter. Many of the couple's Big Brother friends were a part of the festivities: Matt Hoffman officiated the ceremony, Chelsie Hart was one of the bridesmaids, and fellow BB couple Jeff Schroeder and Jordan Lloyd were among the 130 guests who attended the wedding atop the AT&T Center in downtown Los Angeles.
Continuing their grand entrances, the newly proclaimed married couple were lowered into the reception from the ceiling — showing off skills they learned at circus school class.
The jaw dropping continued — making it hard for revelers to enjoy the buffet dinner — when the two changed for their dance performance; her into a white sequined tutu and him a sparkly shirt and matching bedazzled loafers.
And even though the guest list might have seemed on the smaller side, millions of BB fans will be able to watch the young couple — who first met on the CBS show in 2010 — marry. The whole thing was being filmed — naturally — for the season finale of My Fair Wedding: Unveiled, which will air on WE tv on Dec. 15.
More:
'Big Brother' Recap: Holy Double Eviction, Batman!