Welcome to Twitter, Bill Clinton — A Few Tweets from His Presidential Years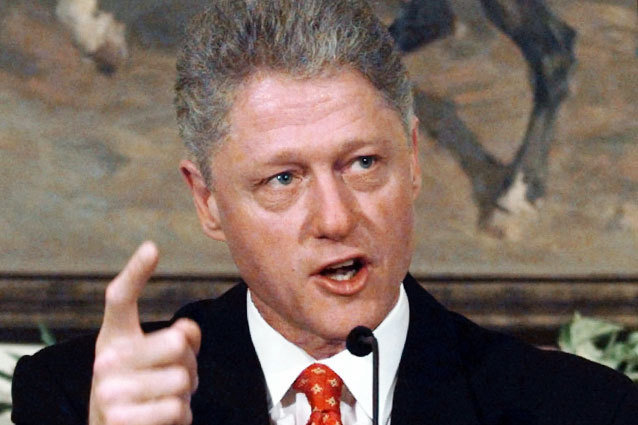 For the past decade and change, we've had to settle for only sporadic appearances by Bill Clinton in our everyday lives. Ever since Bubba left office at the turn of the century, our newspaper headlines and political broadcasts have been severely lacking of his gravel-throated charm. These days, we get our fill of Clinton from My Life rereads, surprise Golden Globe appearances, and Martin Scorsese docs. But the old POTUS knows that we need more — we need a constant influx of all things Clintonian. We need a ceaseless stream of each and every mundane thought that springs into his platinum dome, a fully charged plug into the minutia of Billy's day-to-day. What we need… is Twitter.
And thanks to that indomitable philanthropist Stephen Colbert, we now have this golden opportunity. Earlier this month, Colbert hooked the former president up with a Twitter account, creating the handle @PrezBillyJeff and inviting Clinton onto the show to double-team the account's very first tweet. And now, succumbing to the beck and call of the social media site, Clinton has gotten into the game independently (just like that vote-stealing Nader).
Surrounding a follow-up appearance on Colbert, which you can watch below, Clinton changed his handle to the more "dignified" @BillClinton, and tweeted two new messages, spouting awarenes about World Malaria Day (complete with a hashtag!) and spreading some love to daughter Chelsea. Bill is back, people. Back in our lives to stay. Just like the good old days.
If only we had the bounties of Twitter back in the '90s. Then, we might have had a 24/7 window into the mind of the benefactor of our country's pristine era. Ah, what great tweets we might then have known…
Bill Clinton @billclinton
Rocked Arsenio – White House next. Thanks 4 watching! #saxappeal
3 Jun 1992
Bill Clinton @billclinton
So hard to find good (legal) help these days, am I right guys? #Nannygate @WhatWoodKimbaDo @zbaird
5 Feb 1993
Bill Clinton @billclinton
Economy. Just sayin. #goldenage
11 Mar 1994
Bill Clinton @billclinton
Just hired some promising new interns! @MonicaL #brightfutures
10 Nov 1995
Bill Clinton @billclinton
Sorry not sorry, Bobby #Election #4MoreYears # @aceinthedole
6 Nov 1996
Bill Clinton @billclinton
Don't believe the news! Rumors coming from unverified accounts! #ididnothavesex
18 Jan 1998
Bill Clinton @billclinton
Fail #impeached @ltripp
19 Dec 1998
Bill Clinton @billclinton
FF @AlGore
7 Nov 2000
And although Clinton's account might not be as colorful as it would have been back in the '90s, we can still look forward to some charming hashtags from the former Commander-in-chief. Keep watch for his next tweet.
Follow Michael Arbeiter on Twitter @MichaelArbeiter
More:
Stephen Colbert Got Bill Clinton on Twitter
Twitter Music Has Really Weird Taste in Music
Someone Hacked AP's Twitter Account
---
From Our Partners:


Eva Longoria Bikinis on Spring Break (Celebuzz)


33 Child Stars: Where Are They Now? (Celebuzz)