BK to Mary J. Blige: We're Sorry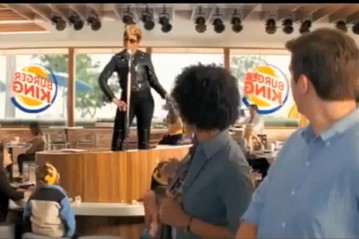 Mary J. Blige, critic of all things drama, faced just that this week when a new Burger King commercial she appeared in sparked a racial controversy. The ad, which featured the Grammy-winning R&B star crooning about "Crispy chicken, fresh lettuce, three cheeses, ranch dressing wrapped up in a tasty flour tortilla" in a Burger King restaurant, was deemed by some fans and media outlets as having racist undertones and encouraging old stereotypes. (Black Enterprise argued that the Blige commercial "reminded many of us that stereotypes of dancing, singing, and chicken-loving black people still remain prevalent in the hearts and minds of advertisers.")
Since the outcry, the spot has since been pulled by the fast food chain and the company released a statement on Wednesday that read, "The Mary J. Blige advertisement has been pulled due to a licensing issue. BURGER KING® expects to have the Blige ads back on air soon." Burger King has once again stated that they'll get the "finished" commercial on the air and issued an apology to both Blige and those upset by the ad. According to the Associated Press, the company stated, "We would like to apologize to Mary J. and all of her fans for airing an ad that was not final. We knowhow important Mary J. is to her fans, and we are currently in the process of finalizing the commercial. We hope to have the final ad on the air soon." Watch the original commercial that caused the controversy here:
Blige has released a statement since the controversy, which erupted Monday, as well. "I agreed to be a part of a fun and creative campaign that was supposed to feature a dream sequence," she told fans, adding, "Unfortunately, that's not what was happening in that clip, so I understand my fans being upset by what they saw. But, if you're a Mary fan, you have to know I would never allow an unfinished spot like the one you saw to go out." In the meantime, ads featuring David Beckham, Jay Leno, and Selma Hayek, who are all part of the same campaign as Blige, still remain on the air, as well as Burger King's YouTube page. (Perhaps they should have just brought back the Burger King Kids Club as sponsors to avoid all this mess.)
Are you glad Burger King apologized to Mary J. Blige and her fans or are you still baffled as to what all the fuss is about? Did the ad feel politically incorrect or racially insensitive to you? Will you be interested to see how they alter the clip? How come no one is more upset that Jay Leno literally drives through a Burger King in his ad?
[Photo credit: YouTube]
More:
Mary J. Blige's Burger King Ad: A Whopper of a Controversy
Jessica Simpson's Naked Magazine Cover Controversy