Blake Lewis Scores Record Deal: 5 Other 'Idol' Alums Who Rebounded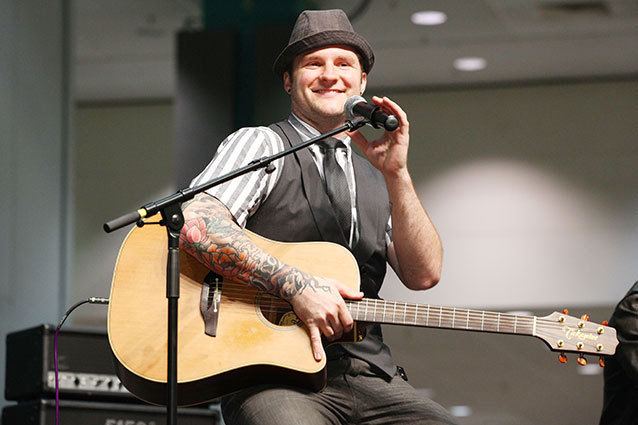 Before this week, the five most embarrassing words you could ever utter were: I have Blake Lewis' album. Scratch that — the five most embarrassing words you could ever utter were: I love Blake Lewis' album. 
Still, I found myself defending the American Idol Season 6 alum's debut effort, A.D.D. (Audio Daydream), on a daily basis back in 2007. "Break Anotha," "Gots to Get Her," and "Know My Name" — tracks off of the album were catchy gems, embarrassing spelling be damned. To fans of Lewis — who has never been given the credit he's deserved for revolutionizing Idol by transforming into an artistry-based competition —  there was little reason why the beat-boxing musician couldn't top the charts alongside the buzziest acts besides a very uncool association with the worst season worst of Idol of all time. (Sorry, Season 9 — you're still the winning loser.)
But Lewis is now getting the opportunity to have the last laugh. The Idol alum has not only scored a contract with Republic Records five years after getting dropped by Arista Records, but he's landed the soundtrack to Microsoft Internet Explorer's "Explore Touch" ad campaign. (Also known as the same company that forced Alex Clare's "Too Close" into your head for months straight.)
RELATED: 'American Idol': Season 12's Big Problem
The musician, however, isn't the only Idol alum to experience a career rebound years after their appearance on our television screens. Here are some other singers from the reality series who found surprising success after they missed out on a confetti shower.
Kimberly Caldwell
Season: 2 (2003)
Post-Idol Struggles: Caldwell parlayed her Idol experience into various hosting gigs for FOX Sports and MTV's P. Diddy's Starmaker. In fact, the singer seemed to abandon singing altogether, instead making bit appearances on TV programs.
When It Turned Around: In 20011, eight years after she was eliminated on Idol, Caldwell released a record uner Vanguard/Capitol Records. Unfortunately, even after being given a chance to rebound, Caldwell failed to impress, selling just 3,000 records, and returned to television to host Oxygen's Best Ink.  
Jennifer Hudson
Season: 3 (2004)
Post-Idol Struggles: The poster woman for post-elimination success failed to make a splash with her first first singles, "Over It" and "Stand Up"… 
When It Turned Around: …which is exactly why Idol fans were shocked to hear the singer scored the role as Effie in the big-screen Dreamgirls adaptation. One Oscar and a successful acting career later, and we're starting to think that Elton John is freakishly prescient.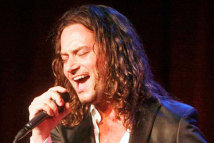 Constantine Maroulis
Season: 4 (2005)
Post-Idol Struggles: The sixth place finisher became more well-known post-Idol for his performances of the National Anthem at sports games than his self-titled album released in 2007. 
When It Turned Around: But, O say, we didn't see his massive Broadway success coming. After a turn in the short-lived Wedding Singer Broadway show, Maroulis appeared off-Broadway before scoring a role in Rock of Ages in 2008. And the Rock of Ages stint came complete with something even better than a confetti shower: a Tony nomination.
RELATED: 'American Idol': Have We Found Season 12's Winner? 
Kevin Covais
Season: 5 (2006)
Post-Idol Struggles: Really, did you expect Chicken Little do to anything after placed 11th in the reality competition series?
When It Turned Around: Though he never scored a record contract, Covais', ahem, interesting looks caught Hollywood's attention two years later in 2008. The Idol alum scored roles in Drake Bell's College, Lindsay Lohan's Labor Pains, and, most recently, Identity Thief. And Chicken Little, against all odds, continues to act to this day.
Katharine McPhee
Season: 5 (2006)
Post-Idol Struggles: The singer, who some found to be as unlikeable as she was talented, found only modest success as a singer. Singles off of her first album, Katharine McPhee, didn't quite hit as hard as "Somewhere Over the Rainbow" and other Idol performances. One year later, she was dropped by RCA Records and in 2010, released Unbroken, which sold just 15,000 copies.
When It Turned Around: Turns out audiences liked McPhee… just not as a singer. After acting alongside Anna Faris and Emma Stone in The House Bunny, McPhee scored the starring role on every musical theater's favorite hot mess, Smash. Though ratings for the series are still leaving something to be desired, McPhee has managed to at least make herself more likeable than Ellis.
Chris Sligh
Season: 6 (2007)
Post-Idol Struggles: Season 6's David Hasselhoff-loving funny man had everything going against him. Sligh finished in the unenviable 10th place, poised for little more than a footnote in American Idol's history of memorable auditions. After his season wrapped, Sligh recorded a solo album, but failed to gain attention outside of the Christian charts.
When It Turned Around: The contestant, whose sense of humor clearly proved he had a talent for words, scored a No. 1 hit on the country charts with 2009's "Here Comes Goodbye," written for Rascal Flatts. Surely, that was enough to help him fulfill his goal to make Hasselhoff cry. 
[Image Credit: Brian Dowling/PictureGroup/AP Images, Will Hart/NBC, Joseph Marzullo/WENN]
---
From Our Partners:


25 Most Scandalous Celeb Twitpics (Vh1)


33 Child Stars: Where Are They Now? (Celebuzz)