Watch the 'Blurred Lines' Parody Video We Can Get Behind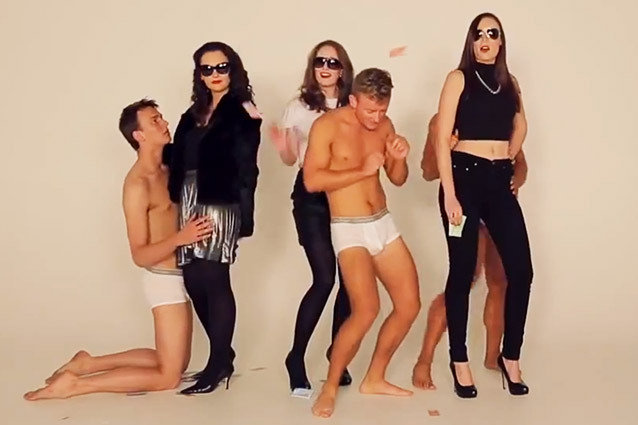 YouTube
We can't stop talking about Robin Thicke's "Blurred Lines" — that is, whenever we take a break from singing it. The song may be a total jam — like, damn, is it ever catchy — but from its questionable (at best) lyrics to its eyebrow-raising video, Thicke's single has been drawing its fair share of criticism from feminists since its release. First came the editorials, then came the parody videos. But these parody videos, which simply flip-flopped the video's gender roles, fell short of accomplishing their goal of pointing out the original's offensiveness. Auckland University's video "Defined Lines," uploaded to YouTube by SuperShortComedy, changed all that. 
In this video, like those that came before it, the reversed genders showcase the absurdity in Thicke's original. The nudity (or near-nudity, because boobs are less offensive than male junk) is gratuitous and serves no real purpose, as are the actions performed by the models. But what makes this parody far and away the best one yet are the clever lyrics that are sung in place of Thicke's. The words themselves are intelligent and pointed; by offering a female perspective on Thicke's verses one line at a time they illustrate how misguided they truly are. 
"We can f**k this man's world," the chorus goes. "With all its bulls**t, girls don't deserve it, and that's why we quit. We ain't good girls. We have scholastic, smart and sarcastic, not f**king plastic." Clearly these ladies are getting to the heart of the problem. 
Other standout lines include:
"If you wanna get nasty just don't harrass me. You can't just grab me. That's a sex crime!"
"There's more to life than penetration and sexual discrimination."
"We aren't whores to do your household chores, make you sandwich when we're on all fours."
"You want a landing strip? You better get ripped."
And a few choice words about where male ejaculate doesn't belong… #LIBERATION
More:
Robin Thicke's Video for 'Blurred Lines' Deserves a Dressing Down
'Blurred Lines' Featuring Jimmy Fallon and The Roots 
Miley Cyrus 'Doesn't Pay Attention to the Negative"… But Maybe She Should
Follow @hollywood_com
| Follow @abbeystone  
---
From Our Partners
From Our Partners:


A Complete History Of Twerking (1993-2013) (Vh1)


20 Grisliest TV Deaths of 2012-2013 (Vulture)