Bobbi Kristina's Engaged To Whitney Houston's Adopted Son — Report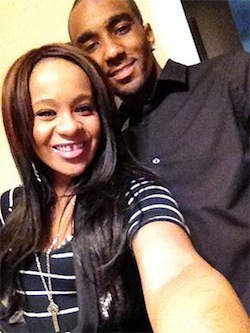 What shocking news! Whitney Houston's daughter Bobbi Kristina Brown is reportedly engaged to her adopted brother, Nick Gordon, a source tells Us magazine. Not only has the 19-year-old been walking around, showing off a humongous rock on her left hand — that once belonged to her mother — but she is also living with Nick.
Gordon, now 22, joined the Houston household at the age of 12. And since Houston tragically passed away on Feb. 11, Brown has been photographed getting up-close and personal with her adopted brother.
"The situation is beyond sad," says the source. "Whitney never formally adopted Nick, but he lived with her and Bobbi Kristina from the age of twelve and they were raised like brother and sister. Nick came from a really bad background."
Brown has always been "close" with Gordon — but now "they are living like a couple," adds the source. "Bobbi Kristina is still so vulnerable since her mother passed away. But Nick has become like her rock."
While it makes sense that Brown would use Gordon as a shoulder to lean on during the past few weeks, this recent turn of events takes their already controversial relationship to a whole new level.
How do you feel about Brown and Gordon getting engaged?
Source: Us magazine