'Boy Meets World' Star Rider Strong Is Engaged (No, Not to Angela)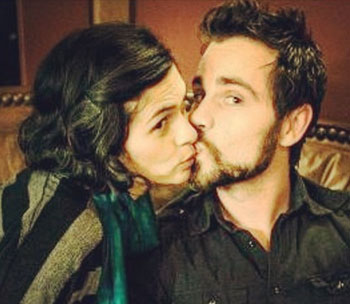 Odds are, you were already planning on thinking about Boy Meets World today. There's no denying it — the show occupies about one third of your conscious thought. As such, here's one answer to the inevitable "Where are they now?" query that you're bound to entertain in your ruminations: Rider Strong, the man we will always know as Shawn Hunter, is engaged.
Strong's publicist revealed the news on Twitter, posted the above image of Strong and his fiancée, actress Alexandra Barreto, attached to a message reading, "CONGRATULATIONS to @RiderStrong & @barretoalex on their engagement!!"
You might recognize Barreto from recurring roles on The District and, more recently, Justified. The pair first met during their joint stint on the short-lived WB series Pepper Dennis. In 2008, Strong and Barreto co-created and appeared in an ad campaign in favor of the presidential candidacy of Barack Obama, which you can watch here.
And now, we rejoice for our lifelong friend, Mr. Hunter. We celebrate this grand endeavor, thinking back fondly upon all of the divergent paths that would eventually lead him to this new turn…
It all started with Dana: the first woman to earn a young Shawn's blossoming affections, inspiring him to plan a picnic against the forces of a wintery Philadelphia. The woman along with whom Shawn would face adversity in the ickiest form: the suspicion that her mother was dating his surrogate dad, Mr. Turner. And the woman who would be cast out by Shawn inexplicably, eventually channeling her resultant scorn into the ability to zap things and transform into puddles.
After Dana, we'd see Shawn take up with Jennifer — a scathing and selfish lass who might have doomed our growing hero to a life of distrust. We didn't care for her, and we were pleased when Shawn recognized the merit in his camaraderie with one Cory Matthews over that in this sham of a relationship.
And finally, Angela. The love story between Shawn and Angela knows few parallels — their ups were sky high. Their downs were six feet under. And when Shawn finally bade an ultimate farewell to his one and only, forced to stand by as she set course for Europe, we all imagined he might never find this sort of happiness again. Until now.
While many of us still might root for a Shawngela reunion, we find comfort in Hunter's newfound bliss. Congratulations to our beloved alumnus of John Adams High, Pennbrook University, and this magical adventure we call growing up.
[Photo Credit: Twitter]
More:
An Oral History of the Infamous 'Boy Meets World' Horror Parody Episode
Cory and Topanga Are In! 'Girl Meets World' Pilot Nabs Danielle Fishel, Ben Savage
Surprise! Kate Winslet is Married to Ned Rocknroll

20 Hottest Bikini Bodies of 2012: Miley and More!