The Boy Scouts Proposal to Lift the Gay Ban Is Complete Bulls**t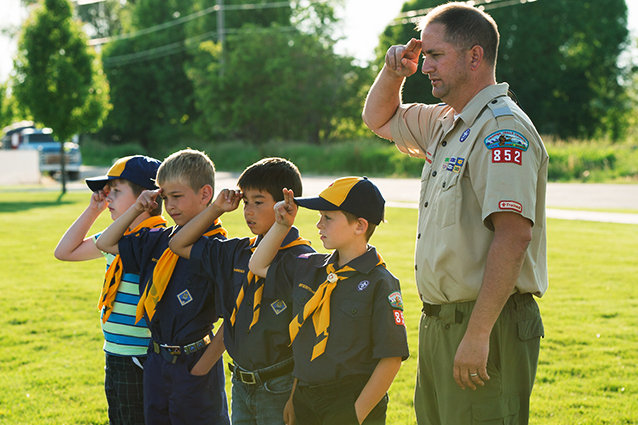 I remember back in June of 2000 when the ruling for The Boy Scouts of America v. Dale came down at the Supreme Court allowing the private group to continue to discriminate against gay men in their organization. I was 21, just out of college, and covering the Supreme Court for The Washington Blade, the country's oldest gay newspaper. The decision came down and I was crushed, absolutely crushed, that the Court could allow for this group to continue to behave like bigots and that this group thought that it was justifiable to ban gay men from its ranks in the first place. I knew, way back then, that the ban couldn't go on forever. That some day things would change and things would get better. It seems like, in my idealistic youth, I was wrong. 
Today the Boy Scouts are proposing to lift the ban voluntarily and I feel something completely different than I did 13 years ago: anger. According to the Associated Press, "The Boys Scouts of America is proposing to lift the ban for youth members but continue to exclude gays as adult leaders." This proposal will go before the 1,400 voting members of the National Council for ratification in May. I think they should vote it down. 
Thirteen years after the heartbreak of that initial ruling, I wasn't prepared to be anything but overjoyed when the Boy Scouts finally lifted the ban (see, maybe if I was a Boy Scout, I would have been prepared) but this step is just more discrimination wrapped in acceptance. Yes, it's great that any boy will now be allowed to earn his merit badges along with his peers. But saying it's OK for them to be included up until the age of 18 and then they have to go get screwed doesn't make any sense. It's perpetuated on the old myth that older gay men somehow want to prey upon or convert younger men. It's saying that no child is safe left alone in the company of a gay man, something that countless gay uncles, fathers, teachers, coaches, and other role models have disproved quietly and loudly for years upon years. 
That is an absolutely ludicrous assumption, that gay men are in a position to follow and not lead. Wouldn't it make sense that the best person to lead a scout troop, gay or straight, is one that has grown up with the influence of the group? This just shows the the Boy Scouts' decision has more to do with increased pressure from the outside world (including the celebrities and organizations that are boycotting them until they end their policy against gay members) than any sort of evolution of their real feelings about offering full inclusion in their ranks. 
Yes, I think that the voting members should vote this down and propose instead to allow every man, regardless of sexual orientation, to participate. Sure, things happen incrementally, but even a bit of bigotry is still bigotry and will not rid the organization of the taint it currently carries. If they refuse to do this, perhaps more radical steps are needed — like convincing parents to pull their children from the Boy Scouts and joining a new organization that supports their morals and the rights for all.
Back on the steps of the Supreme Court, when facing defeat, I dreamed of the day that the Boy Scouts would do the right thing and gay men would have the same rights as every other American. Thirteen years later, we're getting closer. But that day still isn't here. 
Follow Brian Moylan on Twitter @BrianJMoylan
More:
Carly Rae Jepsen Protests Anti-Gay Boy Scouts Policy, Drops Out of Annual Jamboree
Stars Push for Boy Scouts of America Refor
Stephen Speilberg Resigns from Boy Scouts Board
---
From Our Partners:


Eva Longoria Bikinis on Spring Break (Celebuzz)


33 Child Stars: Where Are They Now? (Celebuzz)