Brad Paisley's New Song 'Accidental Racist' Is (Whoops!) Completely Racist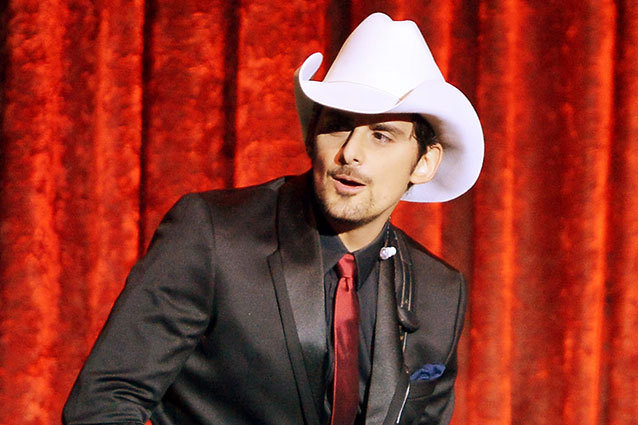 Over the last few years, Internet memes and comedians like Louis C.K. have been joking about the "plight" of the white person. The hashtag #WhitePeopleProblems on Twitter has been a forum to complain about  problems that are innocuous in the grand scheme of things, like iPhones dropping calls or that Game of Thrones airs the same time as Mad Men (no, seriously, who let this happen?). 
But in the midst of all this tongue-in-cheek humor, we as a people actually forgot about the real, serious plight of the upper-class white guy. (Can't wait for that telethon!) Thankfully, Brad Paisley has stepped up to the microphone to speak for those who have had the prominent voice in society since, oh, forever.
In his new, presumably very real song "Accidental Racist," Paisley sings about the horrors of the South. No, not those horrors. I mean, those were, like, a really long time ago and we should probably just let them go. No, it's about the horrors of being a white guy who gets judgmental looks for wearing a shirt with the Confederate flag on it. He just wants to take pride in the South, y'all! 
But, don't you see, people of color? Those Confederate flags shouldn't have a negative connotation anymore despite having some very upsetting associations — everyone who has one is just a Lynyrd Skynrd fan! And they shouldn't have to pay for mistakes made by "a bunch of folks made long before we came." Time to forgive and forget.
Here's some particularly choice lines from "Accidental Racist": 
"Our generation didnt start this nation/We're still picking up the pieces, walking on egg shells, fighting over yesterday/ and caught between southern pride and southern blame."
No, this generation didn't start this mess, but racism still definitely exists and until that mindset is completely gone in the South maybe it will be impossible to differentiate the two. 
"It ain't like I can walk a mile in someone else's skin."
Buffalo Bill would beg to differ. In the meantime, take empathy out for a spin! 
But, the most mind-boggling part of the song doesn't even come from the country star (he's the victim, after all, "Just a white man coming to you from the Southland trying to understand"), but rapper LL Cool J, who inexplicably appears on this track to tell white guys like Paisley that they can "let bygones be bygones" if "you don't judge my gold chains, I'll forget the iron chains." It's just that easy, guys! 
LL Cool J, who refers to himself as a "new-fangled Django" and a "black Yankee," is totally cool with leaving the injustices of the past in the past and would "love to buy you a beer, conversate, and clear the air." After all, as LL explains, they're just as guilty of judging a book by its cover.
You see, everyone is in the wrong here, not white guys. You can listen to this jaw-droppingly offensive little ditty here (make sure you make it to the end, if only to hear LL Cool J give a shout-out to Robert E. Lee) and take pride in knowing, because of this, all is forgiven and racism will cease to exist. We can all go back to worrying about real problems like if we remembered our yoga mats and if this muffin is gluten-free. 
More: 
Miranda Lambert, Little Big Town Get Top Honors at Academy of Country Music Awards 
Rating the 2013 Grammys: From the Best to LL Cool J 
MTV VMAs Move to Brooklyn
---
From Our Partners:


Eva Longoria Bikinis on Spring Break (Celebuzz)


33 Child Stars: Where Are They Now? (Celebuzz)