Brad Pitt Donates $100K to Marriage Equality, Tries to Make Nice with Gay People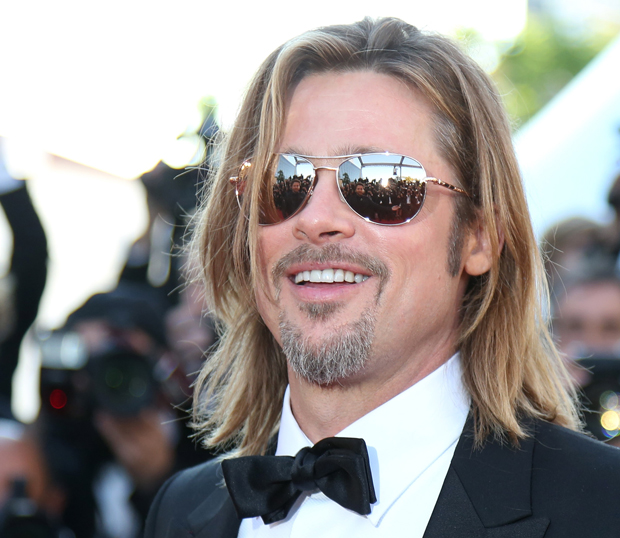 When Brad Pitt and Angelina Jolie announced their engagement after many years of shacking up, living in sin, and raising a multi-national brood of children, everyone was so excited. What does the ring look like? What will she wear? When are they going to do it? Well, that's everyone but the country's gay population, which is a little bit ticked off that Brad and Angie went back on their promise to wait to get married until everyone could get married, including gay couples.
Well, now Brad is putting his money where his mouth is and trying to make it up to the queer fan club members by donating a boatload of money to the Human Rights Campaign, the country's largest lobbying organization for gay civil rights. He said he's going to match any donations made to HRC in the next 24 hours up to $100,000. This comes at a crucial time because on election day on Tuesday there are ballot initiatives in Maine, Maryland, Minnesota, and Washington that could outlaw same-sex marriage. Since Pitt doesn't even have a movie opening, you know this isn't a publicity stunt.
"It's unbelievable to me that people's lives and relationships are literally being voted on in a matter of days." Brad says in a touching letter on HRC's website. "Every person's right to life, liberty, and the pursuit of happiness is enshrined in our country's Declaration of Independence, but powerful, well-funded groups are flooding the airwaves with lies trying to take away those rights from certain people… and we can't stand for it."
Yes, this seems to go a long way to making up for the disappointment of that engagement announcement. But Brangelina also hasn't gotten married yet. Maybe Angie is insisting that they wait until their gay friends can get married, too, and Brad is doing everything in his power to make sure they can set a wedding date sometime in this decade. Whatever his motivations (and they're probably much more pure than that), it's good to see celebrities standing up for what they believe in and doing the right thing instead of letting their nipples fall out of their dresses and getting multiple DUIs in a week. It's almost enough to make up for his embarrassing Chanel No. 5 commercial.
If you agree with Brad, you can donate money here.
Follow Brian Moylan on Twitter @BrianJMoylan
[Photo Credit: WENN]
More:
Angelina and Brad's Engagement Lets Gay Americans Down
Brad Pitt's Chanel No. 5 Ad Is Embarrassingly Awful

Heidi Klum Cancels Her Annual Halloween Party Due to Superstorm Sandy
(Celebuzz)