Brad Pitt Hasn't Seen Any Parodies of His Chanel Ad… Yeah, Sure.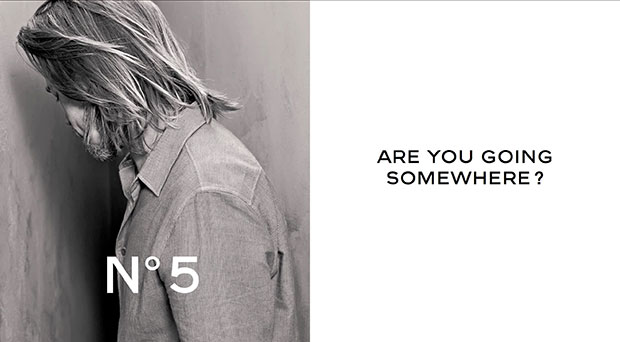 Brad Pitt became the butt of jokes everywhere when he debuted his ridiculous Chanel No. 5 ad. He was spoofed a million times over, including SNL's four (count 'em, FOUR!) commercial parodies starring the scarily-accurate Pitt doppelganger Taran Killam. But what does the Hollywood leading man think of the infamy his ad has gained?
Well, not much. It turns out Pitt hasn't seen a single parody of his commercial. Faster than the Internet can shout, "LIES!" Pitt explained to Access Hollywood that since he's "been overseas, [he has] been blissfully protected." Overseas? Try under a rock!
Is he offended by the sheer amount of parodies? Quite the opposite, in fact. "I haven't [seen the parodies], but I say absolutely fair play, fair play," Pitt says. But despite what the general public thinks of the spots, Pitt is standing by the final product – even if he can't pick out the iconic scent walking down the street. "I kind of liked it… I respect what they do," Pitt says. "They do some really quality things."
The ad was directed by Joe Wright, whose previous credits include Atonement, Hanna, Pride and Prejudice, and the just released Anna Karenina. Wright views the commercial as a fun departure from his usual projects. "I've done three of them now. They're fun, a kind of treat for the crew," Wright tells Hollywood.com. "It's the same crew I make the films with I make the commercials with. So they're a nice kind of excursion."
And for those naysayers who think the Chanel ads are just spoof-fodder, here's some surprising evidence to the contrary: Wright rediscovered Antonement star Keira Knightly after directing her Chanel ad, which led him to cast her in Anna Karenina. "I hadn't seen Keira for a couple of years after making Atonement," Wright tells Hollywood.com. "And when she went in front of the camera I found she was completely different. Or, the same, but developed. She was stronger, powerful, more direct, focused. And I wanted to bare witness to this incredibly powerful woman she had become."
Calling all actors looking for a reinvention! Apparently all it takes is a Chanel ad. If it worked for Knightly, it can work for you, too. Just try not to go the Pitt route, people. That won't work for anyone.
Reporting by Matt Patches
Follow Sydney on Twitter @SydneyBucksbaum
[Photo Credit: Chanel]
More:
Brad Pitt's Chanel No. 5 Ad Is Embarrassingly Awful
Brad Pitt Wants To Ask You a Question in Chanel No. 5 Ad
Unhappy Hour: Brad Pitt's Odorous Chanel Ad, and 8 Other Reasons to Drink This Week
You Might Also Like:

Cory and Topanga Are In! Big 'Boy Meets World' Spinoff News