Brad Pitt's Mom Writes Anti-Gay, Anti-Obama Plea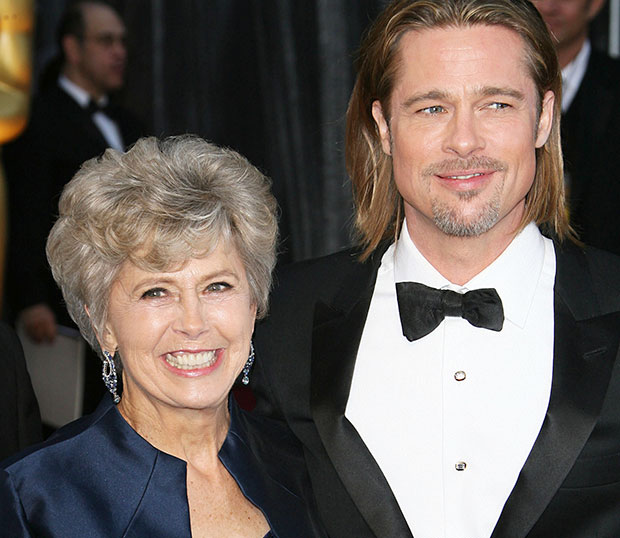 Every family has disagreements—some just choose to air their divisive opinions opposing their A-list movie star son's stance on gay marriage in newspaper form!
In a letter to
The Springfield News-Leader
,
Jane Pitt 
— mother of
Brad Pitt
, soon-to-be mother-in-law of
Angelina Jolie
 and grandmama to
Shiloh
et al. — expressed her concern over Christians who planned to vote for
President
Barack Obama
, calling the President "a man who sat in Jeremiah Wright's church for years, did not hold a public ceremony to mark the National Day of Prayer, and is a liberal who supports the killing of unborn babies and same-sex marriage."
Mrs. Pitt responded to a
previously-published opinion piece
that discussed Christians' right to not vote for
Mitt Romney
because he is a Mormon. In her letter, she acknowledges that she also differs from Mormonism, but goes to write, "I think any Christian should spend much time in prayer before refusing to vote for a family man with high morals, business experience, who is against abortion, and shares Christian conviction concerning homosexuality just because he is a Mormon."
The surprising dichotomy between Mrs. Pitt and her actor son, of course, is that the latter has often said that he and Jolie would not wed until "everyone in this country had the right to get married." Although Pitt and Jolie's impending nuptials proceeding without same-sex marriage rights for the country at large, the World War Z star has been a fierce proponent on the topic—and only recently came out as an equally positive supporter of Obama.
"I'm an Obama supporter, no question," Pitt told
The Hollywood Reporter
earlier this year. "But it doesn't mean there's nothing to learn from the other side." The other side appears to be Pitt's mother, whom it should be noted doesn't deliver any particularly incendiary message, but rather asserts an anti-abortion, anti-marriage equality stance, shared by plenty of others. In the same cover story in 
THR
, Pitt described his mom as "very, very loving — very open, genuine, and it's hilarious because she always gets painted in the tabloids as a she-devil. There's not an ounce of malice in her. She wants everyone to be happy." Still, the dichotomy between Pitt and his mother's beliefs is intriguing, if only for the massively public manner in which Pitt has welcomed his political opinions.
[Photo Credit: WENN.com]
More: