Brandi Glanville Quits LeAnn Rimes Twitter Feud Just As It Gets Annoying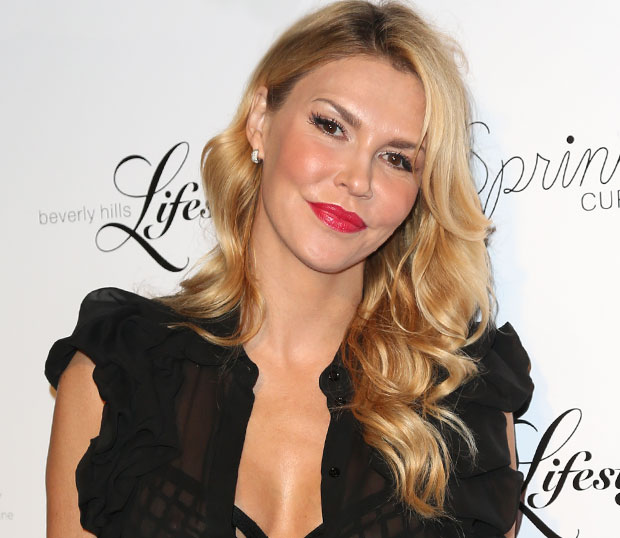 Everyone has had that friend who went through a really bad breakup and at first it's fun to meet them for brunch to talk about what an asshole the ex is and to trash the horrible person they're shacking up with now. There's lots of dishing and gossip and mimosas and name calling and it's fun. That's how you heal. For a while, that's what the feud between Real Housewives of Beverly Hills bombshell Brandi Glanville and country music singer turned social media layabout LeAnn Rimes was like. We all knew that LeAnn stole ab factory Eddie Cibrian from Brandi and we hated her for it and we just loved to talk trash about them.
But now it's gone a bit too far. Again, it's like your dumped friend. After a few months of commiseration they're still not over it and it's all they can go on about and they're getting into details about minute ways they've been slighted and they bring up all this shit about Twitter and Facebook and what someone said to someone else and who isn't talking to whom and what Becky told you the new girlfriend was wearing when Becky saw them at the movies and how she just looked awful. Yeah, that's no fun. That's not stuff you care about. Then it just seems sad and desperate and you're wondering when your friend is just going to go out to a bar and get shitfaced and sleep with some other people so that you'll have something else to talk about at brunch.
That latter bit is what happened this week with Brandi and LeAnn. Brandi flew off the handle at LeAnn when she Twittered something about a trip she was taking with "her boys," meaning Brandi's kids. LeAnn responded with passive aggressive pictures of her and the boys together. Than Brandi gave an interview saying that one of her sons got sick after eating one of LeAnn's laxatives, which, I'm sorry for the poor kid, but gross. And then last night Brandi was Twittering pictures of emails between her and Eddie with all sorts of petty gripes between the two of them.
Ugh. But now it's all over… ish. Brandi finally Twittered, "I want it to go away so I can deal with it on my own. I know it seems hypocritical but can we not talk about 'them' anymore at least 4today."
Does that mean it's over? Does that mean we can move on to something else instead of this intractable trench warfare that is taking place on Twitter (Twitter, of all places!). Does that mean we can go back to talking trash about all the Real Housewives and just being clever and awesome? Please? Does it? Come on, Brandi, don't put this to rest for today, put it to rest for good. We want our friend back!
Follow Brian Moylan on Twitter @BrianJMoylan
[Photo Credit: Getty Images]
More:
Dear Bravo, It's Time to Make LeAnn Rimes a Real Housewife
'Real Housewives of Beverly Hills' Recap: Brandi Glanville Gets in a Snifter
Brandi Glanville Admits That She 'Wanted to Kill' LeAnn Rimes at Soccer Practice

Kate Middleton Pregnant: A Look Back at Famous Royal Baby Portraits (PHOTOS)

Pregnant Kate Middleton Leaves Hospital After Four-Day Stay