Brandy Remembers Whitney Houston with New Album, 'Two Eleven'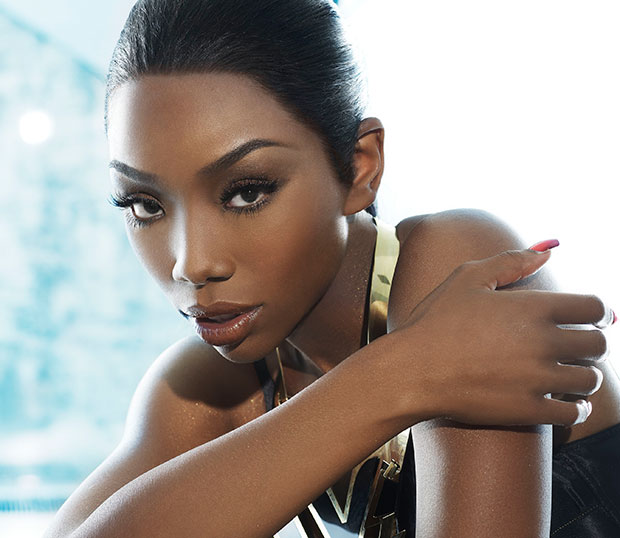 It was time for a comeback for Brandy Norwood, and the 33-year-old singer has finally made it. Brandy released her first studio album in four years, Two Eleven, on Oct. 12 and it was an instant hit. Two Eleven debuted at number one on the Billboard R&B Albums Chart and number three on the Top 200 Albums Charts. Hollywood.com got the chance to not only chat with Brandy about her new album but also Whitney Houston.
Four years ago, Brandy released the album Human, but since then the music world hasn't heard much from her. "I really couldn't find my way, honestly," Brandy says of her time between albums. "I was lost as an artist. I was lost in direction. I didn't really have any guidance … I didn't have a deal for a very long time. I didn't have that home — that belief system, that support system — that really gave me the opportunity." But after trying her talents in the rap world with the help of Timbaland and venturing into the realms of reality television, she found her place again. "It took a while to get back on my feet, but I'm here," she says.
Now, thanks to the success of Two Eleven, Brandy feels back in control. "I believe in it. I really believe in the process," she says. "I believe in the outcome and just to be received again and for people to be open minded about me. It's really putting me in a great place. Spiritually, mentally, I've just reconnected with my purpose, which is amazing." Her new CD makes her proud. "It just feels good to have something I can get out there and share," she says. "It's been years since I've felt like this."
RELATED: Colbie Caillat Spreads Christmas Cheer, Talks Rap Ambitions
With Two Eleven, Brandy returns to her R&B roots. "I knew I wanted this album to be edgy, different, and risky, but at the same time, have that R&B foundation," she says. "[And] to have a goal to contribute to that genre of music and try to help get it back on its feet, I loved having [that] goal at the beginning of [making] the album."
Her first single to hit the market, "Put It Down" featuring Chris Brown, was an immediate hit. "I had a breakdown when I first heard it, like I fell to the floor in the middle of the second verse," Brandy recalls. "I was like, 'This is it.' I knew it was something special." And working with Brown only added to the magic of the song. "He's just the icing on the cake," she says. "I had no idea he was going to rap and sing. I was like, 'Oh, this is just great.'" 
Brandy also got to work with Frank Ocean on the song, "Scared of Beautiful." "Frank Ocean is such a jewel," Brandy says. "He's so talented." But the song itself made the the collaboration that much better. "This song just really spoke volumes for me, just where I was in my life and where we are all afraid to go to in our lives," Brandy explains. "That place of beauty, that place of strength, sometimes we're afraid of the great part of who we are. I have been there and sometimes I still go back and forth. Sometimes, I'm afraid of my beauty and afraid to be great. That song is like my greatest love of all. It just really speaks to the self and speaks to your worth."
RELATED: Snoop Drops Dogg, Becomes Lion: Is the Change for Real?
As personal as "Scared of Beautiful" is, the album's title hits even closer to home for Brandy. The numbers Two Eleven are meant to stand for Brandy's birthday, but also, tragically, the day earlier this year that her mentor, Whitney Houston, passed away. "[Not only does] it represent my rebirth as an artist, [but it also] represents a bond that I will forever have with Whitney," Brandy says. "Even if she didn't pass on my birthday, that bond is solidified because she was my favorite artist, favorite singer, and favorite entertainer of all time. She knew that. She knew how much I loved her. She knew how much I loved her music and what she meant to me as a person and as an artist." Brandy adds, "For her to pass on the day I was born, it just [adds importance] to my purpose and what I have to do [to] contribute to her legacy."
Before Houston passed away, she gave Brandy some meaningful life advice. "The last thing she said to me was, 'Don't let anybody change you. Don't try to be anyone else. Be you,'" Brandy shares. "For that to be the last thing we talked about and also being able to tell her how much I love her and what she meant to me in that same conversation… that was a moment in time that was given to the both of us."
Follow Lindsey on Twitter @LDiMat.
[Photo Credit: Gomillion & Leupold/RCA]