Home
Celebrities
From 'Sisterhood Of The Traveling Pants' To David Cameron: A Brief Guide...
From 'Sisterhood Of The Traveling Pants' To David Cameron: A Brief Guide To Haim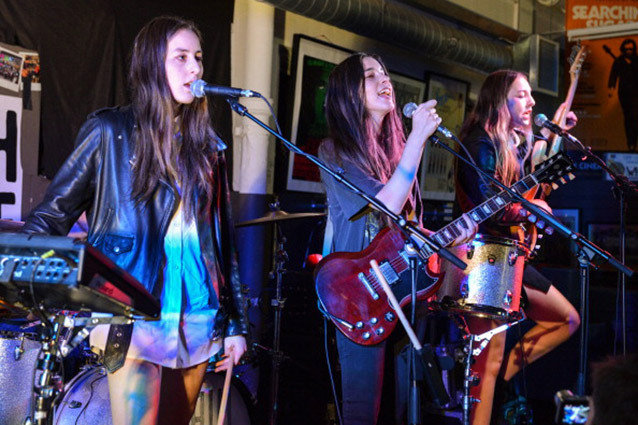 Getty/Andy Sheppard
Having recently topped the U.K. charts and entered the U.S. Top 10 with their debut album Days Are Gone, Los Angeles siblings Haim certainly appear to have justified the hype that was showered upon their sun-soaked soft-rock sound at the beginning of the year. But in case you've been living under a rock over the past twelve months, here's a quick everything you need to know guide to Este, Danielle and Alaina.
They've Always Kept It in the Family
Proof that the trio have always kept it in the family, the girls began their music career in a band named Rockinhaim with their father Mordechai on drums and their mother Donna on guitar.
They Were Once Valli Girls
Danielle & Este also cut their teeth as part of The Valli Girls, an all girl-group inspired by the likes of Blondie and The Pretenders who appeared on the soundtracks to both The Sisterhood Of The Travelling Pants and the 2005 Nickelodeon Kids Choice Awards.
Julian Casablancas was Their Unofficial Mentor
After inviting Danielle to perform percussion and guitar on his solo tour, The Strokes frontman Julian Casablancas then became the band's unofficial mentor, advising them to take a break from playing live and instead concentrate on their songwriting.
Este is a Musical Prodigy
Renowned for her incredible bass-face performances, Este is also something of a musical prodigy having completed her five-year degree in Ethnomusicology at UCLA in just two years.
They Won the BBC's Sound of 2013
Pipping the likes of AlunaGeorge, Angel Haze and Laura Mvula to the post, Haim were crowned the winners of the BBC's prestigious industry poll earlier this year to join such illustrious company as Adele, Florence + The Machine and Ellie Goulding.
They Like Collaborating
As well as hooking up with Jessie Ware on their own record, various members have also popped up on tracks this year by Major Lazer ("You're No Good"), Kid Cudi ("Red Eye") and Portugal. The Man ("Purple Yellow Red & Blue")
Este Almost Died at Glastonbury
Diabetic Este claimed that she feared she was going to die in front of a live audience after she was forced to abandon their first set at this year's Glastonbury when her blood sugar levels ran dangerously low.
David Cameron is a Fan
David Cameron tweeted how he was looking forward to listening to their album after the trio dedicated a performance of "The Wire" to the Prime Minister when they both appeared on the BBC's The Andrew Marr Show.
Follow @Hollywood_com