Home
Celebrities
Bristol Palin Considering Political Career. You Betcha. — VIDEO
Bristol Palin Considering Political Career. You Betcha. — VIDEO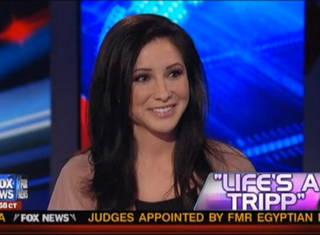 First, Diff'rent Strokes star-turned-Surreal Life cast member Gary Coleman entertained politics by running for California governor during 2003's recall election (which saw fellow actor Arnold Schwarzenegger elected). Then, Real World alum Sean Duffy managed to win a seat in Wisconsin's 7th Congressional District. Then, Keeping Up With the Kardashians kultural beacon Kim Kardashian caused us to rekoil in horror after threatening to run for "Armenian Town," a.k.a., Glendale, Calif. And now, Bristol Palin is the latest reality star to hint at a political future.
Appearing on
Sean Hannity
to promote her new reality show,
Life's a Tripp
, which premieres Tuesday on Lifetime, Palin told the Fox host that while she's too young to run for office, she's not completely discounting the possibility she'll follow in Mom Sarah's pit bull footsteps. "I don't think I'd shut [the door] completely yet," Palin told Hannity.
Though Palin addressed other issues during the course of the interview — including her support for her mother, should she run for office, and why she chose to document her life as a young mother on television — the possibility of a political future involving another Palin is sure to bait the most headlines. (Hey, it worked for us. Though it is admittedly interesting that Palin did hint at her disappointment in starring on the show: "If I would have known it was my own name and so much in my life is gonna be shown on this show, I think I would reconsider and think about it more.") And if any personality knows how to attract a possible voting public via a reality television program — even though Sarah Palin's Alaska has been off the air since 2011, the former vice presidential candidate continues to tease voters with the possibility of a last-minute bid for the presidency — it's someone from the infamous Alaskan family.
Sure, we could roll our eyes, fear for our youth, and continue to appreciate Mike Judge's prescient 
Idiocracy
 the day a
Dancing With the Stars
cast member considers a spot in our government. But you might be surprised how prepared a reality star might be for political office run. After all, they already cope with life under a microscope, public humiliation, widespread detractors, and
being forced to get intimate
with undesirable people for the sake of the cameras. (Idea tangent:
Zingbot
moderates a debate! Who's with me?) So long as Palin's politics best her Rumba.
Follow Kate on Twitter @HWKateWard[Image Credit: Fox News]
More:
Bristol Palin's New Show Portrays Life is a Tripp — VIDEO