Will We Ever Stop Obsessing About Britney Spears' Body?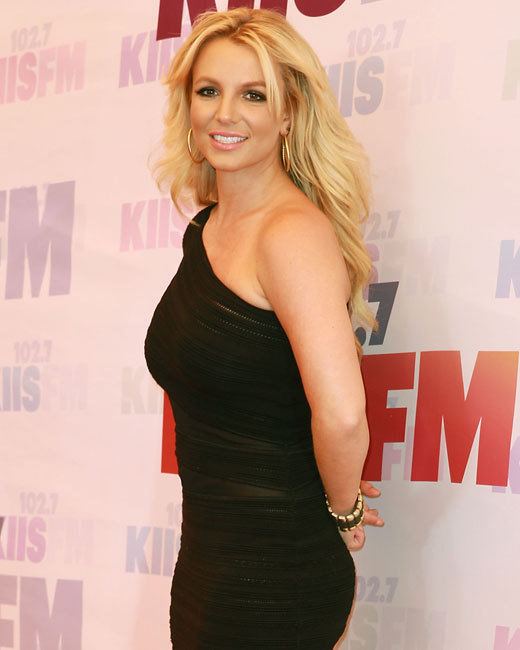 Britney Spears is out doing press and magazine photo shoots, so it's time for another round of our nation's favorite game: Is Britney Spears Fat or Thin?
Though this dress (above) is reason enough to swoon, it has websites, from Us to Hollywood Life to The Examiner, once again chattering. All of this comes just after Shape magazine revealed its June cover featuring Spears in a killer white bikini and, of course, her famous abs. The internet has thus exploded with speculation about Photoshopping (which I won't dignify with a link here) as well as general panting about her once-again-toned physique.
This seems to be the price one pays for being a sex symbol in one's youth. Britney's so identified with her slamming body (I admit, I've watched the "I'm a Slave 4 U" video more than once for inspiration before ab work) that she may never escape this cycle as long as she's in the public eye.
The Shape article, at least, does paint a nicely realistic portrait of Brit's struggles to reach the impossibly high fitness standards the world sets for her. "I like it, then again, I hate it," she says in Shape. "I'm in my 30s now, so I have to work harder to keep it up." She adds, "Dieting is tough … because my specialties are spaghetti, brownies and chocolate chip cookies."
And as Us pointed out, back in a January 2009 issue of Glamour, Spears admitted that being a mom changed her workout priorities. "I have had to work hard at getting it back to where it used to be," she said of her body. "I used to be obsessed with working out. …[now], three days a week is cool, even two."
Now that's some real inspiration: Even Britney Spears knows having a perfect body isn't easy — but it also isn't everything.
In case you need some gymspiration:
Hollywood.Com Correspondent Jennifer Keishin Armstrong Is The Author Of Sexy Feminism And Mary And Lou And Rhoda And Ted, A History Of The Mary Tyler Moore Show. Visit Her Online At JenniferKArmstrong.Com.
Follow Jennifer On Twitter @Jkarmstrong
More:
'Spring Breakers' Is A Metaphor For Britney Spears
Britney Spears Faking It on 'Scream and Shout'?
Is Amanda Bynes Headed for a Britney Spears Style Meltdown?
---
From Our Partners:


What Happened to 33 Child Stars (Celebuzz)


40 Most Revealing See-Through Red Carpet Looks (Vh1)