Brittany Snow, Chuck Woolery, Others Remember Dick Clark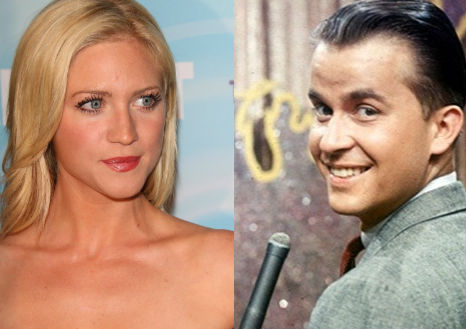 Dick Clark shaped the lives of the musicians, personalities and actors who worked with him, pushing many of them from obscurity to stardom. After news spread yesterday, April 18, that the iconic TV producer and host passed away, those same performers paid respect in any form they could — making it apparent that Hollywood had lost one of its greatest icons.
The immediate reactions are a reminder of Clark's influence, but the TV show American Dreams, which debuted on NBC a decade ago, may stand as one of the most fitting tributes to the late Clark. The show examined events and emotions of the '60s through the lens of American Bandstand, with a cast of behind-the-scenes creatives, performers, and dancers. American Dreams broke out actress Brittany Snow, who portrayed the show's lead Meg Pryor, a dancer who gets her own big break on Bandstand. Clark was an executive producer on American Dreams and even found himself as a character on the show, played by actor Paul D. Roberts.
Snow shared a statement about Clark's passing with Hollywood.com:
"I am deeply saddened by the news of Dick Clark's death. He was such an inspiring, intelligent and kind man. I am so honored that I was able to be a part of a television show that recreated such an iconic part of history and be a part of Dick Clark's influential work. I will not only be forever grateful [for] how he changed my life but how he also changed the world. A truly gifted man with the most genuine demeanor, he will be so greatly missed."Continuing the high praise for Clark, Disney Chairman and CEO Robert Iger released a statement lauding the producer's innovative programming:
"For more than half a century, Dick Clark brought the best of American music to audiences across the country, creating careers and countless fans for artists on his iconic shows, American Bandstand and New Year's Rockin' Eve. We're proud that ABC was home to those programs and will always be part of his legacy. On behalf of everyone at Disney and ABC, we send our sincere condolences to Dick's family, as well as the three generations of fans who will miss him as much as we do."
Chuck Woolery, famed television personality, said in a statement:
         "I am shocked and saddened by the news of Dick Clark's passing yesterday. The first time I came in contact with Dick was in 1968 when I did American               Bandstand. Dick also produced the show Greed, with me as host, on Fox. He really was the best to work with. We stayed in touch through the years, and I          knew Kari, Dick's wife, as well as his son RAC. I considered Dick, Kari and RAC close friends. My deepest sympathy goes out to his family. What an honor it          is to have known him and worked for him. It is such a shock to know he is gone. Dick's passing is a great loss to not only his family and friends, but to all               those fans he touched through the years. Television will never be the same again. Dick was funny, quick, a true gentleman, and helpful to anyone who                    asked. What more could you ask a man to be? He could walk with Kings and still maintain a common touch."
Mario Lopez, who co-hosted the daytime talk show The Other Half with Clark said in a statement:
         "It was truly an honor to have worked with him, learn from him and to be able to call him a friend.  He was a great man and an even better friend. The word          legend is thrown around a lot, but it's never more appropriate than when used in describing Mr. Clark. He was a real inspiration & influence in my life. I will          dearly miss my friend… Rest well DC."
Find Matt Patches directly on Twitter @misterpatches and remember to follow @Hollywood_com!
More:
Update: Ryan Seacrest Pays Tribute to Dick Clark on 'Idol'
Why There Will Never Be Another Dick Clark
Dick Clark on the Big Screen: See the Icon's Rare Movie Appearances