Brooke Burke-Charvet Has Thyroid Cancer Scare — VIDEO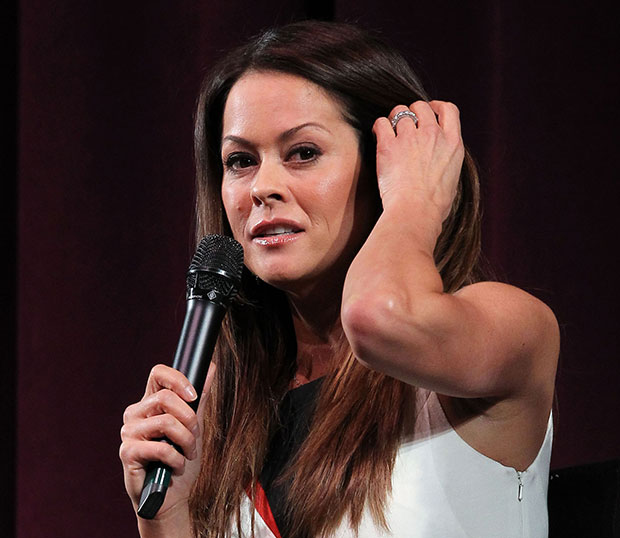 It's been a tough few months for popular TV personality and Dancing With the Stars co-host Brooke Burke-Charvet. The emotional video from Burke-Charvet shows her discussing quite frankly about the prospect of her diagnosis and how it came about. "This is a 'good' kind of cancer to have," she explains, saying that her doctors believe her prognosis to be very good.
"I need to have thyroid surgery and a thyroidectomy, which means I'm going to have a nice big scar right here across my neck," she revealed in the YouTube video. Burke-Charvet feels that being frank now is the most appropriate thing to do, as it won't be something so easy to hide. "I don't get to just walk around and pretend like nothing happened or not follow up or not share it—because it's going to be pretty much dead center. I don't want anybody to read about it and get the wrong idea, or think that I'm sick, because I'm not," she clarified.
Burke-Charvet goes on to explain that she's surprisingly never felt better, health-wise, and was shocked when she got the news after a regularly scheduled physical.
"I got my results back … and they were atypical—which means that the doctors couldn't confirm whether the nodule was cancerous or benign," she explains. "So I had to go and do a whole bunch of additional tests and get second opinions. Long story long, I got my results back and they were not good."
The scare hasn't broken her spirit, though, and she remains vigilant in her quest for health—especially for her children.
"It's taken me a couple of months to really wrap my head around this," she says, but goes on to assure fans that she's "good" and "ready to deal with it." "I'm going to be fine. I feel really, really strong. … My doctor did tell me this is a happily ever after ending kind of thing."
Sending good, healthy vibes your way, Brooke!
[Photo Credit: Judy Eddy/Wenn]
Follow Alicia on Twitter @alicialutes
More:
'Modern Family' Star Ariel Winter Files Abuse Charges Against her Mother
'Real Housewives of Beverly Hills' Star Adrienne Maloof Finalizes Divorce
Even Celebrities Are Fed Up With Donald Trump

Lady Gaga Dons Strapless Bikini Top, Waves to Fans in Brazil (PHOTOS)
(Celebuzz)