EXCLUSIVE: Bruno Gunn Talks Fitness and 'Hunger Games'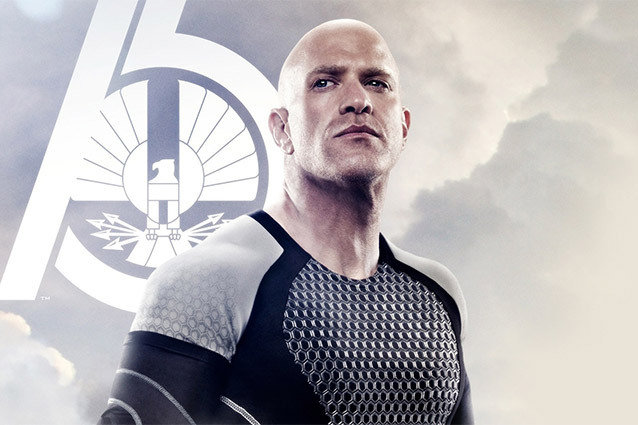 Lions Gate
With The Hunger Games: Catching Fire just around the corner, we had to get to know one of the film's most badass characters Brutus, played by Bruno Gunn (Sons Of Anarchy, CSI). We couldn't have been more excited to see what he had to tell us about being Brutus, on and off the set.
First off, can you share a little about your experience filming The Hunger Games: Catching Fire? Did you feel a fellowship with your co-stars? Was there competition behind the scenes as well? 
I made great memories, new friends, and together we got to travel around the country and make this amazing film. The only competition was on the dance floor and Josh Hutcherson by far had the best moves.
Tell us about your character Brutus. What did you do to prepare to get in the head space to play him?
As a former Victor in one of the richest districts (Two) in Panem, Brutus was afforded a privileged lifestyle.  He's a fierce warrior who was groomed for the Arena.  I immediately related to Brutus' fiery competitive nature.  It was also important for me to create a personal back story for him and let that influence what was otherwise a very physical role.
Did you read any of the books before your audition? Do you think the movie will satisfy fans of the book?
Before I auditioned for the role? No.  I only knew it was a phenomenon.  I got the news I was cast as Brutus in between connecting flights to Italy. Nine hours on a plane with this life-changing news and I couldn't share it with anyone.  Let's just say I threw myself a small celebration on the plane.  I picked them up immediately and they were the best books I ever read.  I was immediately immersed in the world.  The fans will be very happy.
Obviously you are no stranger to the big screen, but how are you dealing with the fandom of Hunger Games? It is quite a phenomenon. How do you anticipate the release of the movie will impact you personally? Have you given any thought on how best to handle it?
They are well-read, intelligent and creative fans who have a passion for reading.  They love Suzanne Collins and pore over every line of her story.   It's been a completely positive experience.  It's great hearing people tell me that they're discovering some of my earlier work and am excited for them to see future projects.
How much, if any, physical training was involved in the making and preparing of The Hunger Games: Catching Fire?
A highlight of my experience on Catching Fire was the intense two months of training leading up to the film with the stunt team at Eighty-Seven Eleven.   A lot of hours and preparation were put in learning martial arts, how to use a spear and choreographing fight scenes.  The workouts were exhilarating and exhausting.
Speaking of training, your twitter has a very positive trend of motivation and training. How important is health and fitness to you? Can you share a bit on your philosophy on this and let us know what role health and/or fitness plays in your life?
I played a lot of different sports, so physical fitness has always been important to me.  I teamed up with a great professional fitness coach in Los Angeles, Drew Logan.  Although I've trained hard my whole life, the deciding factor was learning the importance of nutrition and the body working as a machine.   Drew taught me the science of food, it all starts and ends with nutrition.  You have to make smart food choices.  It took me to a whole new level of performance.  I maintain a physique we like to call "Home Base" by carefully managing my workouts and nutrition…so that I could gain or lose 5-10lbs if needed in a short time for any role, but oh, that's not easy…'cause I love chocolate éclairs.
Touching on social media: It has changed the fan/artist relationship. What is your personal approach to social media? Do you use it to share or interact?
Twitter, what a great platform to reach out and have a dialogue with someone on the other side of the world. I've met all kinds of incredible people through social media.  It's information and culture at our fingertips.  I'm a huge fan.
You were born in Ohio, lived in Rome, acted on stages in New York City and now reside in L.A. What place most feels like home? When you are home, what are some of your favorite daily/weekly activities?
Home is wherever I hang my hat.  I've had the good fortune to live in some amazing cities.  My parents are Italian immigrants who still reside in my hometown the Pro Football Hall of Fame City — Canton, Ohio.    Of course being cento-per-cento Italian and having Roman blood running through my veins, Italy is special.  For me, New York is a heartfelt place and California, soulful.  It's been a great ride.  When I have the time, I enjoy making a mess with paint. 
Can you give us a glimpse of what's next for Bruno Gunn?
I'll be spending some time in Bon Temps, Louisiana recurring on the upcoming season of TRUE BLOOD.  I recently wrapped production on another Lionsgate project and have some big projects coming up that I'm really excited about.