Constructing the Perfect Bruno Mars Super Bowl Halftime Show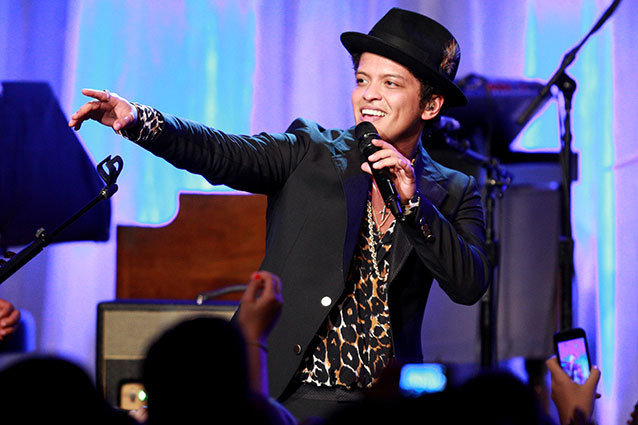 Getty Images
It's never easy to follow Beyoncé, but that's exactly what Bruno Mars has to do when he performs at this year's Super Bowl Halftime Show on February 2. The Platinum-selling artist will be faced with the difficult task of entertaining both the thousands gathered at the MetLife Stadium in East Rutherford, NJ, and the millions of people watching at home. In order to help take some of the pressure off, we've pulled together five of his iconic performances and highlighted what he can learn from each one. If he can manage to work them all in during his time on the Super Bowl stage, there's no way his performace will be anything less than amazing. 
Staging from the 2013 VMAs
Between the lasers, the animated gorilla head, and the pryotechnics, it's hard to believe that this performance didn't take place in the middle of the MetLife Stadium. Mars should keep this amazing 2013 version of his latest single, "Gorilla," in mind when working on the staging for the halftime show — if this is what he's got for the VMAs, just imagine what he could do for the Super Bowl. 
Vocals from the 2012 BRITs
This 2012 performance of "Just The Way You Are" featured some slick moves and spiffy tuxes, but the real stand out was Mars' incredible vocals. He's one of the best singers in the game today, and the Super Bowl is the perfect chance for him to show off what he can do. Plus, he's got enough charisma and stage presence that to win over the entire audience even if he just stands still. 
Choreography from 2013 Billboard Awards 
Mars' track "Treasure" is pure funky-pop fun and none of his performances showcase that fact better than his appearance at the 2013 Billboard Music Awards. Dressed in matching red suits, Mars and his band appear to be having the time of their lives on stage and their enthusiasm is contagious. If they decide to bust out the same moves on Feb. 2, it's pretty much a guarantee that the audience in both the stadium and at home will be on their feet. 
Innovation from the 2011 Grammys 
One of the best things about Mars as a performer is that he isn't afraid to mix things up and try something new. Take his 2011 Grammys performance, for example, where he reworked his ballad "Grenade" into a a soulful Doo-Wop song. There's no better venue for Mars to revisit that creativity than the Super Bowl stage, and we're hoping the opprtunity inspires Mars to try something completely different. 
The Star Power from 2013 Grammys.
Madonna had Cee-Lo Green and M.I.A., Beyoncé had Kelly Rowland and Michelle Williams — part of the fun of watching the halftime show is waiting to see what other stars the performers have invited along. We think Mars should take some inspiration from his 2013 Grammys performance, where he sang with Sting, Rihanna, and Damien and Ziggy Marley, and bring out some of his famous friends. After all of the hit singles he's written for them, it's the least they could do. 
More: 
How To Look Like Hugh Jackman and Bruno Mars
Billboard Beats: Bruno Mars is 'Your Man'
Why Beyonce's Super Bowl Halftime Show was Better Than the Game
---
From Our Partners:


A Complete History Of Twerking (1993-2013) (Vh1)


15 Stars Share Secrets of their Sex Lives (Celebuzz)