Caitlin Crosby Exclusive: The Giving Keys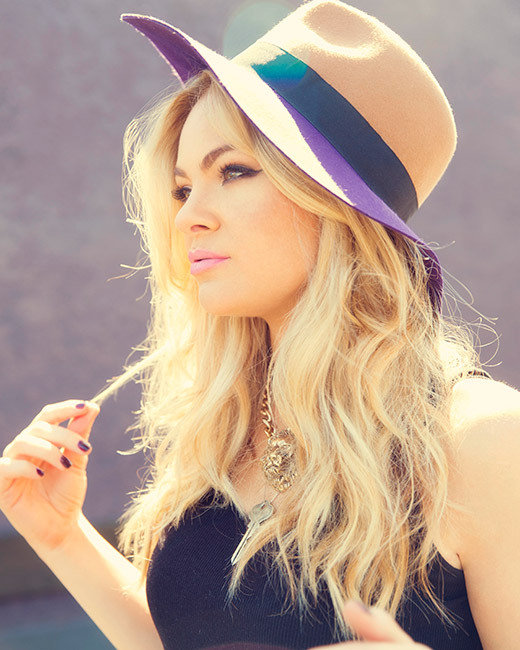 Chloe Aftel Studio
She's an enthusiastic humanitarian, effective philanthropist, intelligent optimist, courage creator, jewelry designer, life inspirer and so much more. Caitlin Crosby has made caring a fashion statement. Her mission is simple, yet uniquely inspired. Caitlin sits down with us to explain how she plans on creating a better world – one hope-filled key at a time
Can you tell our readers a little about The Giving Keys?
I really believe we are all unique and each person has the power to unlock incredible beauty in the world. I found unique vintage keys to be a powerful symbol of this belief. After engraving my first key with the word LOVE and turning it into a necklace, my friends and people that came to my shows began asking for their own keys. I made more keys with words like HOPE, STRENGTH, DREAM and COURAGE. I realized that these simple keys became incredibly powerful when the wearer of the key would give it away to someone else. Finally, I realized that I wanted to create jobs for LA locals who are affected by homelessness, so at The Giving Keys we employ people who are transitioning out of homelessness to make each vintage piece of jewelry. 
 What was the inspiration behind giving the keys away to someone in need?
I had this really powerful moment in a church parking lot one day. After a service this woman came up to me and handed me a pair of earrings and said she felt they were for me so she gave them to me, a perfect stranger. It was this crazy moment that really affected me and the way I think about how we handle our possessions. I'll always remember that — that she so freely gave something valuable away to bless someone else. That's what we want The Giving Keys to be — not something you hoard and hold onto, but something you keep for as long as you need it, and when the time comes and you meet someone who needs that word more than you, you give it away – you pay it forward.
It's really impressive how many celebrities have connected with this project: Selena Gomez, Rachel Zoe and Sara Bareilles, to name a few. How did The Giving Keys spread through Hollywood so quickly?
Ever since the beginning I've felt like the keys speak for themselves in this really incredible way. I'm constantly surprised by how such a simple idea — a key with an inspiring word strung on a chain — can have such an impact on people. LA is built on image and a lot of other things that don't really matter at the end of the day — I think people hear The Giving Keys message and it connects in a deeper place. Our friends in Hollywood connect with our jewelry for the same reasons that anyone else around the world does – hope and inspiration are powerful whether you're living on the streets or in the Hollywood hills. We never outgrow our need for either of those things. 
Can you tell us about your partnership with Chrysalis?
We have been working with Chrysalis for the past year. Chrysalis is a well-established non-profit serving LA's homeless population with a tagline of "changing lives through jobs." At The Giving Keys, we couldn't agree more that the long-term solution to homelessness is to empower capable people to overcome their own challenges through employment and education. Chrysalis' clients have proven to be an incredible workforce to create the jewelry that our customers have come to love so much.
January is Human Trafficking Awareness Month. We see you are partnering with Not For Sale for the month of January.
The modern-day slave trade is one of the fastest growing industries in the world, enslaving more than 30 million individuals today. Not For Sale is doing incredible work with a mission to create a world where no one is for sale and we were thrilled to partner with them to create a custom pendant featuring a unique charm. The charms are the product of artisans in the Amazon, which create an important source for income and empowerment for women in Peru. The process of producing this piece of jewelry is in itself very important, as it has a direct impact on the lives of women fighting against the risk of exploitation. 20% of every pendant purchased goes through Not For Sale to support people vulnerable to human trafficking. We got an awesome story from one of the Not For Sale staff that through their educational and awareness programs in Peru one of the women they worked with kept her daughter from being lured into a trafficking ring and actually was able to bring the trafficker to justice. 
Your new precious metals collection is coming out soon. What made you want to do a higher end collection? And are those all recycled keys too?
Our new Precious Metals line will be released just in time for Valentines Day. These keys are cast in the image of an original vintage key and are made of bronze and 14k gold. People were really interested in having a higher end version of a Giving Key so we started exploring options and are really happy with the way these came out. To elevate the product using more valuable materials meant creating our own keys based off some of our favorite key styles. Recycled keys and 14kt plating are not friends we found out. We think these keys are a really delicate and elevated expression of the heart of The Giving Keys. These ones might be a little harder to pay forward (but we believe in you)! They will be available for sale at Henri Bendel, on our website, and in select retail outlets. 
You team up with a lot of other 'pay it forward' organizations like TOMS, Conscious Commerce etc. Do you think that there is a shift in consumers wanting to buy products from more responsible companies and why?  
Americans are incredibly philanthropic, but we think traditional approaches to charity are struggle truly eradicate the social problems plaguing society. It's just not as sustainable to live by donations rather then revenue. By bringing the entrepreneurial spirit into the equation, consumers now have the power to help make the world a better place through their everyday purchases. The more that 'pay it forward' organizations thrive, the more it sends a message to other corporations that customers want their purchases to make the world a better place. We're headed in the right direction!
Anything else you'd like to add?
I just want to encourage everyone to use what's in their hands to create change. I never thought that by engraving a key with the word love that I was starting on a journey to what The Giving Keys has now become. In the past two years I have watched dozens of members of our team blossom with confidence and hope and have received thousands of stories of the keys helping people. Keep your eyes open, there are people in need all around you. To learn more visit The Giving Keys.