Can Only a Skinny Minnie (Mouse) Wear Lanvin?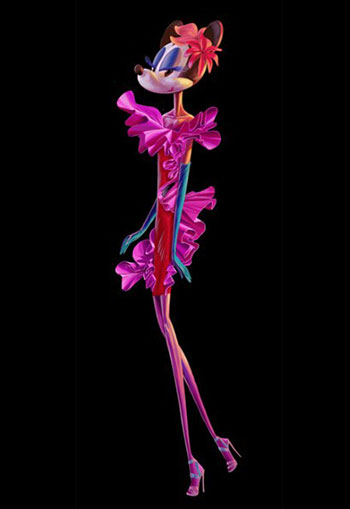 Talk about a skinny mini. Or, as the case may be, Minnie. Ms. Mouse has been given a drastic makeover for Barneys New York department store wind display. Gone is the cherubic, cheery Minnie of our childhood, and in her place we find a waifish, solemn, toothpick-slip of a mouse. But don't be alarmed by this transformation; Barneys and Disney promise that the change has been made in the name of fashion, so it's okay. (Because when fashion models are impossibly skinny, it's okay.)
The Barneys window display, called Electric Holiday, puts a spin on Disney's electric parade by equating the parade's — and the holiday's — flashing bulbs with those on a runway. In the display, Minnie Mouse falls asleep and has a dream where she walks in a Parisian fashion show clad in a gorgeous Lanvin dress. For said fantasy to become a reality, it seems, Minnie must shed three quarters of her body's weight and double in height.
Ragen Chastain, a positive image blogger and dance teacher based in Los Angeles, has created a petition to voice her outrage at Barney and Disney's decision to portray Minnie this way. "Girls have enough pressure to be thin, now the beloved Disney mouse of their childhood has to add to the message that the only good body is a tall, Size 0 body? Enough already," her petition reads. "Let's give girls a chance to celebrate the actual bodies they have instead hating them for not fitting into a Lanvin dress."
So far, the petition has 134,054 (and counting) supporters.
Disney and Barneys, of course, were quick to defend their new, chic depiction of Minnie. "We are saddened that activists have repeatedly tried to distort a lighthearted holiday project in order to draw media attention to themselves," the two companies told the New York Daily News. "They have deliberately ignored previously released information clearly stating this promotion is a three-minute 'moving art' video featuring traditional Minnie Mouse in a dreamlike sequence set in Paris where she briefly walks the runway as a model and then happily awakens as her normal self wearing the very same designer dress from the fashion show."
However, it seems to me more like Disney and Barneys are deliberately skirting the issue. The problem here is not that we see a skinny Minnie, but that the creative forces behind the display have decided that only a stick-thin model looks good in a Lanvin dress. In fact, this is exactly what Barneys' creative director Dennis Freedman told Women's Wear Daily in August.
"When we got to the moment when all Disney characters walk on the runway, there was a discussion … The standard Minnie Mouse will not look so good in a Lanvin dress. There was a real moment of silence, because these characters don't change. I said, 'If we're going to make this work, we have to have a 5-foot-11 Minnie,' and they agreed," said Freedman. 
And therein lies the problem. The Case of the Skinny Minnie goes beyond a thinner Mouse. Just as Freedman says, designer clothes do not look good on normal people — or mice. And, if beautiful, expensive clothes only look good on the ultra-thin, it's easy to make the jump to believing that only the ultra-thin are beautiful. And this is a dangerous train of thought.
[Photo Credit: Barneys]
More:
Screw the Tabloids: Adele Has the Classiest Baby Birth in Years
Justin Timberlake's Vows Make Boy Band Wedding No. 10
How to Properly Celebrate the Release of Taylor Swift's 'Red'
From Our Partners:

Jessica Biel Shows Off Wedding Ring After Marrying Justin Timberlake in Italy — PHOTO
(Celebuzz)

Kristin Cavallari Doesn't Want to Plan a Wedding Right Now, Says She's Focusing on Motherhood for Now — EXCLUSIVE VIDEO
(Celebuzz)